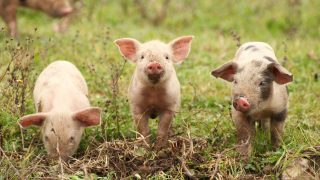 Northwestern University School of Law: Animal Law Week
In April 2010, Northwestern Law's Animal Legal Defense Fund Student Chapter hosted "Animal Law Week," a week long series of events designed to educate students about the wide variety of issues facing animals in the legal system today.
We hosted four lectures, one film showing, a service event, and a dinner at a local vegan restaurant. The week's speakers came from many organizations, including Farm Sanctuary, HSUS, Mercy for Animals, Best Friends Animals Society, Animals & Society Institute, the Chicago Police Department, U.S. Fish & Wildlife Service, Northwestern University, DePaul University, and the Chicago Bar Association.
Our most well-attended event, entitled "If Slaughterhouses Had Glass Walls…," focused on farm animal activism, undercover investigations, and media relations. Gene Baur from Farm Sanctuary and Nathan Runkle from Mercy for Animals delivered engaging presentations to about sixty students, many of whom learned about factory farming for the first time during this event.
Other lectures during Animal Law Week focused on anti-cruelty laws and enforcement, wildlife laws, and current "hot-button issues" like dogfighting, puppy mills, and breed discrimination laws. The Northwestern Law Animal Legal Defense Fund also worked with Sodexo, the school's catering company, to create a vegan menu for all of the events. Sodexo served Tofu Stir-fry and creative wraps like Portobello Mushrooms with BBQ Onions. Overall, it was a very successful week!
Prior to Animal Law Week, NL's Student Chapter co-hosted an event with the Student ACLU about the Supreme Court case, U.S. v. Stevens. We brought in speakers from the national ACLU and the public interest law firm, Meyer Glitzenstein & Crystal. Other activities included planning two vegetarian restaurant outings and serving vegan food at Global Village, the school's annual multicultural food event. We are currently working on resource sheets for students with companion animals and students who want to volunteer with animals.
The Northwestern Law Animal Legal Defense Fund Student Chapter also works to alleviate animal suffering through public service. This year, we organized two volunteer trips to Chicago Animal Care & Control's Adopt-a-thon, and we also ran a Holiday Pet Supply Drive for a local animal shelter. Some Student Chapter members have begun to foster animals for a local shelter and have written tutorials and testimonials on the student e-mail list. The NL Animal Legal Defense Fund Student Chapter also hosted a Saturday ABA-HEART training on humane education for the local legal community. We were able to waive the facilities fee and pay for food through an Animal Legal Defense Fund grant, so HEART could run the training at the lowest cost.
One of NL Student Chapter's biggest challenges this year was to raise consciousness about our group and the field of animal law. Through advertising, we expanded Student Chapter e-mail list to 73 law students, which means that those students now receive information about animal law events and opportunities. We also sent three students to the HSUS Taking Action for Animals conference, two students to the Lewis & Clark Animal Law conference, and two students to the National Animal Law Competitions, thanks to generous grants from Animal Legal Defense Fund.
Finally, we are proud to announce that Northwestern Law's Animal Legal Defense Fund Student Chapter just received the Robert Bennett Outstanding Student Organization award, which is given to two Northwestern student organizations each year for their contribution to the law school community and display of leadership.
Northwestern Law's Student Chapter looks forward to another year of service, advocacy, and education!
This spotlight was submitted by Kristina Moen, president of Northwestern University School of Law's Animal Legal Defense Fund Student Chapter.
Recent News
This action is for U.S. residents only.

This special webinar on New Jersey's Gestation ban victory is part of Speak Out for Farmed Animal Month (SOFAM) and is intended for law students.

The victory follows the passage of a factory farming law and efforts to curtail the construction of new mega dairies in the state