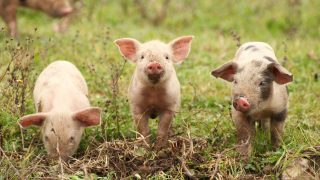 Golden Gate University School of Law
Golden Gate University's Animal Legal Defense Fund Student Chapter has rapidly increased in attendance, size, and interest over the past year.
In October of 2012, Golden Gate University's Student Chapter celebrated Vegetarian Awareness Month by hosting a table every Monday, which provided free vegan food and educational information. The event was so successful that it has continued every other Monday this spring, taking the title of "Meatless Mondays." It has been a hit with students and faculty, and we plan to continue it for the next academic year.
Animal Law professor Bruce Wagman, also a partner at Schiff Hardin, has conducted presentations at Golden Gate University several times over the past few years. His latest seminar, "Hot Topics in Animal Law," discussed an overview of the legal issues concerning companion animals, entertainment, research, farming, fighting, and more. He has lectured at the Animal Law Conference at Lewis & Clark Law School and was featured as a keynote speaker and solo panelist at the first-of-its-kind California Annual Animal Law Symposium that took place on March 2, 2013, at Golden Gate University.
Last year it was brought to our attention that the Animal and Wildlife Law course at Golden Gate University was in jeopardy due to waning attendance and interest.
With the spike of involvement on L&C Law School's Animal Legal Defense Fund Student Chapter and attendance at chapter meetings and events, we felt the course could be revived and we set out to preserve it for future students. Our Student Chapter was able to acquire more than 50 signatures to successfully petition the administration to continue offering this class.
We were also able to make an agreement with the Environmental Law Director to include this course as part of the fulfillment for the Environmental Law Specialization Certificate. The next Animal and Wildlife Law course will be offered this fall.
Our Lewis & Clark Animal Legal Defense Fund Student Chapter is extremely proud of the fundraiser we held last fall entitled, "West Coast Fires Victims with Pets." The Ponderosa wildfire peaked in mid-August and the Haven Humane Society took in almost 200 stray and abandoned animals.
The facility generously donated more than $10,000 to assist disaster victims and provided free pet food every weekend for several months last fall. Our group noticed their tremendous efforts and decided to assist by placing bins around campus to collect animal toys, food, and bedding. We also contributed a donation to Haven Humane Society from a bake sale fundraiser we held on campus.
Golden Gate University's Animal Legal Defense Fund Student Chapter hosted the "Northern California Animal Legal Defense Fund Student Chapter Banquet" in November which brought chapters from six different law schools together to discuss our activities to help animals and to brainstorm for the first California Annual Animal Law Symposium (CAALS) in the spring.
After the roundtable discussion, it took several months to orchestrate the CAALS event, which included 11 animal law speakers, over 100 attendees (including attorneys and students), and three dining events. Animal Legal Defense Fund was the premier sponsor for this amazing occasion. The Symposium, a day of back-to back panels, was the first-of-its-kind in California run by Student Chapter students from seven different law schools, and it greatly surpassed our expectations.
Our group hosted "The Great Foie Gras Debate: Is the Ban Constitutional or Fowl Play?" last October and sparked an intense debate between two deputy members of Animal Care and Control in San Francisco and Rob Black, the Executive Director of the Golden Gate Restaurant Association. Their speaking topics included how the ban went into effect, what legal consequences resulted, current litigation, and what to expect for the future. The debate attracted many students and faculty.
This semester our Animal Legal Defense Fund Student Chapter group teamed up with the Environmental Law Journal to coordinate a film screening called "Shadow of the Condor," which explored the issues surrounding the survival of the California condor as an endangered species.
Lead poisoning in condors is a pressing issue that is essentially preventing viable condor populations from being successfully established and keeping Condors on the endangered species list. This event was educational and eye-opening for many students in attendance.
Sunita Su, Golden Gate University's Animal Legal Defense Fund Student Chapter Treasurer, participated in this year's National Animal Law Competitions and placed second in the Closing Argument Competition out of 15 other competing law students from various schools. Sunita spent months of preparation and practice to present her 20 minute argument for several judges and, eventually, the public. Our chapter and school are proud of her accomplishments and the standard she has set.
For Valentine's Day, we tabled for several weeks to raise money for Vet SOS, a volunteer-based program that provides free veterinary care to the companion animals of homeless San Franciscans. The event was titled "Puppy Love Secret Admirer Valentine's Day Grams" and we raised over $50 for our cause.
Our also chapter participated in the National Anti-Cruelty Day fundraiser in memory of "Turk," a Helmeted Guinea Fowl that was decapitated by two Berkeley law students in Las Vegas in October of last year. In response to this act of animal cruelty, on April 2nd, 2013, Student Animal Legal Defense Fund chapters at law schools across the country held fundraisers in Turk's honor, with the proceeds going to Animal Legal Defense Fund's Criminal Justice Program. This idea was put into action by Berkeley School of Law's Animal Legal Defense Fund Student Chapter. Golden Gate University's Student Chapter successfully raised awareness and bake sale donations to commemorate Turk's unnecessary beheading.
Finally, Golden Gate University's Animal Legal Defense Fund Student Chapter co-hosted the "Paws for Stress Relief" event with Law School Student Services in April to allow students to interact with service dogs on campus while taking a brief break from their studies for finals. Students were able to visit with the dogs for 15-minute appointments and each available day was booked solid.
As the field of animal law continues to grow, our chapter understands that we must continue to work together in our mission to effectively advocate for animals. Golden Gate University's Student Chapter is committed to bettering the lives of animals and we look forward to achieving this goal with another successful year of dedication and involvement.
This spotlight was submitted by Rachel Brockl, President of the Golden Gate University Student Animal Legal Defense Fund.
Recent News
Petition urges recordkeeping of all deaths and reporting to the agency every three years from Animal Welfare Act licensees

Following the dismissal of Justice's case upheld on appeal, the Animal Legal Defense Fund continues to seek accountability under the law.

The Animal Legal Defense Fund is looking for individuals who have visited either the East Texas Zoo & Gator Park or the Franklin Drive Thru Safari. If you are willing to speak to us about your…