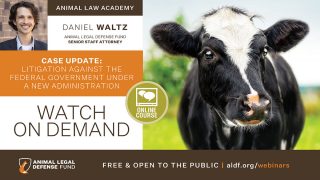 Case Update: Litigation Against the Federal Government Under a New Administration
Presented 8/3/21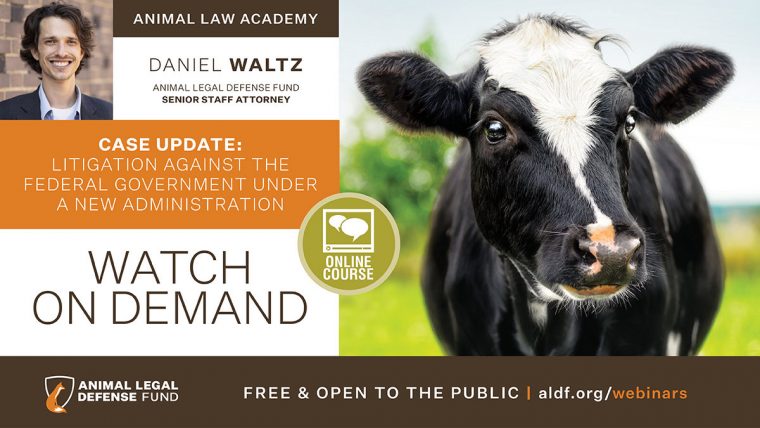 With the change in presidential administration came swift action in reversing regulatory actions taken in the last four years on matters concerning animals, environmental, and public health protections. Many of Animal Legal Defense Fund's ongoing lawsuits against the federal government will be impacted by these reversals. The Animal Legal Defense Fund's litigation over policies that favored industry at the expense of animals, the environment, and public health are providing the new administration the opportunity to reconsider the policies and reverse course. Join us as we discuss the progress in which the federal government has taken toward its animal- and environment-friendly policy commitments, through the lens of several Animal Legal Defense Fund lawsuits.
This webinar has been pre-recorded. Watch it now!
Resources
Join the Animal Legal Defense Fund's email list to stay up to date on lawsuits, legislation, and regulations affecting animals.
Sign Up Now
Related
The USDA fought to keep the numbers hidden from public view, ultimately paying $15,000 in attorneys fees in settlement

Today the Delaware County district court granted a motion for contempt filed by the Animal Legal Defense Fund against Cricket Hollow Zoo and its owners, Pamela and Thomas Sellner, seeking the whereabouts of more than 100 animals who "disappeared" prior to a court-ordered rescue.

Edie Falco narrates the Animal Legal Defense Fund film demanding transparency in factory farming