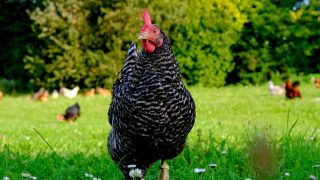 Career Advice for Aspiring Animal Attorneys
Do you want to work for the animals? Are you interested in obtaining a job as an animal lawyer? Check out our many resources on this subject:
Animal Legal Defense Fund's Opportunities in Animal Law booklet gives a great overview of how legal professionals can get involved in animal law.
For advice straight from animal lawyers, check out this Q&A with a Staff Attorney, So You Wanna Be an Animal Lawyer?, and Making Animal Law Your Career.
For more ideas and advice, see our two rotating features:
Law School Graduates: Where Are They Now? is a series of updates about former student chapter members who are helping animals through the legal system.
Animal Legal Defense Fund Attorney & Paralegal Spotlights are profiles of legal professionals who are winning the case against cruelty through our Pro Bono Program.
Wherever you end up working, use your law degree to help animals by joining the Animal Legal Defense Fund's Pro Bono Program. We use volunteer attorneys to work on a variety of projects including research and citation checking, writing legal information guides, filing amicus briefs, litigating cases, and assisting prosecutors with animal cruelty cases. The amount of work the Animal Legal Defense Fund does would not be possible without pro bono assistance!
If you're interested in opening your own private practice and incorporating animal law, read "Animal Law" in GPSolo Magazine. .
Check out this advice from Lewis and Clark Law School's Center for Animal Law Studies Career Center.
Every year the Animal Law Conference or Animal Legal Defense Fund Student Convention has a career panel where attendees can ask questions of those currently working in the field about how to get a job in animal law. Watch this video from the 2014 conference panel, How Can I Get a Job Advocating for Animals? for advice from the experts!
Participate in the Animal Legal Defense Fund's Animal Law Academywith webinars and CLE events to stay up-to-date on animal law issues.
Another helpful resource is the American Bar Association's book: Careers in Animal Law: Welfare, Protection, and Advocacy.
Also make sure to check out the Employment and Clerkships, Internships & Fellowships Listings for current employment opportunities at various law firms and non-profit organizations across the country.
If you'd like advice on generally working within the animal protection movement, check out Our Hen House's 14 Tips On Getting a Job in Animal Rights and Care2's How to Turn Your Love for Animals Into a Full-Time Job.
Related
The Animal Legal Defense Fund has helped defend California's right to enact the strongest farmed animal protection law in the country

Proposed rule would maintain an unnecessarily complicated and confusing process for children to get access to plant-based milk

Cows were killed in Madison, Brazos, and Robertson Counties, Texas.