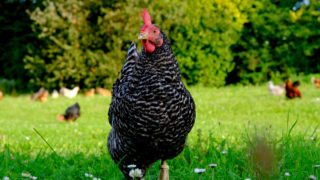 Career Advice for Aspiring Animal Attorneys
Do you want to work for the animals? Are you interested in obtaining a job as an animal lawyer? Check out our many resources on this subject:
For more ideas and advice, see our two rotating features:
Wherever you end up working, use your law degree to help animals by joining the Animal Legal Defense Fund's Pro Bono Program. We use volunteer attorneys to work on a variety of projects including research and citation checking, writing legal information guides, filing , litigating cases, and assisting prosecutors with animal cruelty cases. The amount of work the Animal Legal Defense Fund does would not be possible without pro bono assistance!
Check out this advice from Lewis and Clark Law School's Center for Animal Law Studies Career Center.
Related
Animal Legal Defense Fund alleges violations of the Endangered Species Act and state laws.

Undercover investigations at factory farms protected by First Amendment

Animal Legal Defense Fund Publishes 2018 State Ranking Report