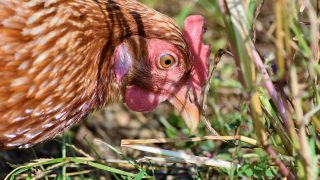 California Enacts Law Requiring Plant-Based Options in State Facilities
By Nicole Pallotta, Academic Outreach Manager
In September 2018, California Governor Jerry Brown signed SB 1138, a law that makes California the first state in the nation to require prisons, hospitals, nursing homes, and other state-operated facilities to offer plant-based meals. The law defines plant-based meals as "entire meals that contain no animal products or byproducts, including meat, poultry, fish, dairy, or eggs."
According to Senator Nancy Brown, the bill's author, "Americans have shown a growing interest in low-meat and no-meat diets… But people who are confined to prisons, hospitals or other healthcare facilities aren't always given the opportunity to choose non-meat options."
In addition to the importance of access to plant-based meals for individuals in these facilities, "offering plant-based options in these institutions gives California a chance to further its climate protection and water conservation goals."
The Los Angeles City Council is also considering legislation that, if approved, would require all movie theaters and large-scale entertainment venues that sell food to provide at least one vegan protein entrée option on their menus. This law would include concessions at city-operated venues, parks, the Los Angeles Zoo, Meals on Wheels programs, and Los Angeles International Airport restaurants.
Councilman Paul Koretz, who introduced this proposal on December 5, 2018, said combating climate change is his chief motivation, and cited several studies linking the meat and dairy industries and the environment.
Further Reading:
● Rosengard, David B. "Three Hots and a Cot and a Lot of Talk': Discussing Federal Rights-Based Avenues for Prisoner Access to Vegan Meals." (23 Animal L. [i] (2016-2017)
Help animals win the legal protections they so desperately need and deserve, and ensure they have an advocate in courtrooms and legislatures across the country.
Take Action Now
Related
Cruel high-speed pig slaughter is about to go nationwide. Help us protect pigs and contact your senators today.

The USDA violated federal law in finalizing this rule, acting contrary to the mountain of evidence before it demonstrating the rule's dangers, and flouting humane slaughter and meat inspection laws.

Court rules slaughter operations violate state animal cruelty and slaughter laws.