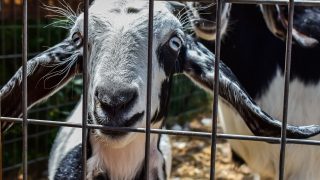 Animal Advocacy Groups and Food Law Center Urge FDA Not to Bow to Industry Pressure to Restrict Plant-Based Dairy Labels
Urging the FDA not to restrict labeling terms on plant-based dairy products as it reevaluates the Standards of Identity for products like milk and yogurt. Plant-based dairy producers already use truth
Contact: media@aldf.org
Washington, DC – Today the Animal Legal Defense Fund, Compassion Over Killing, and UCLA's Resnick Center for Food Law & Policy submitted joint comments urging the Food and Drug Administration (FDA) not to restrict labeling terms on plant-based dairy products as it reevaluates the Standards of Identity for products like milk and yogurt. Plant-based dairy producers already use truthful and non-misleading terms to describe their products, and enforcing inapplicable rules would harm the growing industry, public health, and consumer access to information.
Plant-based products are a multi-billion dollar industry that is projected to continue growing. More and more consumers are opting for plant-based products out of concern for animals, the environment, and their health. In the United States alone, plant-based food sales in the last year surpassed $3.7 billion, and plant-based milk products make up 13% of total retail milk sales.
At the same time, sales of dairy milk are falling. To protect its profits, the animal agriculture industry is pressuring both states and the federal government to sabotage plant-based products.
"There is absolutely no evidence that consumers are confused by the current labels on plant-based dairy products," says Animal Legal Defense Fund Executive Director Stephen Wells. "Restricting terms like 'milk' for well-known products like almond milk and soymilk serves only to protect animal agriculture's bottom line, not the American public."
"Dairy sales are souring, so in desperation, the industry is seeking the FDA's help under the guise of consumer confusion," says Erica Meier, executive director of Compassion Over Killing. "Research shows that consumers are more than capable of telling the difference between animal and non-animal sourced milk products. Consumers are not going into the grocery store thinking almond milk comes from a cow."
Historically, the FDA enforced Standards of Identity to safeguard consumers from cheaper, low-quality products intended to mislead. Plant-based producers strive to avoid confusion with animal-based products, and are incentivized to cater to customers who actively seek products not made using animals, by using marketing modifiers, such as "vegan" and "dairy-free". Forcing producers to label items such as soy milk and cashew yogurt with terms like "imitation milk" would both confuse consumers and make the products less appealing.
In recent months, the animal agriculture industry has made multiple attempts to suppress the plant-based industry. In August, the Animal Legal Defense Fund challenged the constitutionality of a new Missouri law that restricts "misrepresenting" any product as "meat" if it does not come from a slaughtered animal.
The traditional dairy industry is also lobbying Congress to restrict labeling terms on plant-based dairy. In 2017, legislators introduced the "DAIRY PRIDE" Act in Congress. The "DAIRY PRIDE" Act would forbid alternative dairy producers from using the terms "milk" or "cheese" in their names – a flagrant attempt by the dairy industry to protect their market share.
Copies of the comment are available upon request.
Related
Animal Legal Defense Fund's lawsuit alleged Hormel misleads consumers with its Natural Choice® brand of lunch meats and bacon

Meat and dairy alternatives can use common naming conventions in the state without fear of prosecution

Lawsuit asserts the law creates a patchwork of standards that threaten to preclude nationwide sales for plant-based meat producers