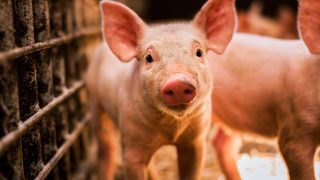 Hormel Settles in Deceptive Advertising Lawsuit Over "Natural Choice®" Products
Animal Legal Defense Fund's lawsuit alleged Hormel misleads consumers with its Natural Choice® brand of lunch meats and bacon
Contact: media@aldf.org
WASHINGTON D.C. — The Animal Legal Defense Fund filed a motion to dismiss its lawsuit against Hormel Foods regarding its advertising for Natural Choice® brand products as its disputes have been resolved. The lawsuit, filed in June 2016, together with Public Justice, alleges Hormel Foods misleads consumers through the advertising of its Natural Choice® brand of lunch meats and bacon by advertising the products as "natural" while they still come from animals raised in the worst factory farms that employ additives, hormones and antibiotics, and contain ingredients that constitute artificial preservatives, in violation of the D.C. Consumer Protection Procedures Act (DCCPPA). As part of the resolution, Hormel Foods has published additional information on its website to help consumers understand the terms Hormel Foods uses on its product labels and in its advertisements. Hormel Foods also agreed to include explanatory language in future advertisements for Hormel Natural Choice® products.
Discovery during the lawsuit proceedings revealed Hormel advertises these products as "natural" and represents that the pigs used for this line of products are treated differently than pigs in its other products are processed, even though the animals in Natural Choice® brand products are also raised in factory farms, and given antibiotics, including bambermycin and/or virginiamycin, and other chemicals such as chlorine and Termin-8 acid, a feed disinfectant containing formaldehyde and propionic acid.
Additional documents produced by Hormel reveal there is also nothing "natural" about the way the company treats animals, including pregnant mother pigs being confined to gestation crates typically seven by two feet in size — which confine artificially inseminated female pigs for virtually their entire lives. The use of gestation crates has been banned in multiple states, including California. California's law has been challenged by industrial animal agriculture industry associations and is currently being reviewed by the U.S. Supreme Court. This follows multiple lower court decisions where the Animal Legal Defense Fund, as part of a coalition, successfully intervened to defend the law from lawsuits by the industrial agriculture industry.
Further, disturbing U.S. Department of Agriculture noncompliance reports show safety violations where animal carcasses were contaminated with fecal matter and reprocessed. Other documents from litigation also show Hormel's efforts to use a loophole allowing the company to deceive customers by labeling its products as not having nitrates added while using celery powder as an additive that still ultimately produces nitrates.
Deposition testimony taken during the litigation also reveals one of Hormel's suppliers of its Natural Choice® brand called Wayne Farms renders dead chickens into feed, which it then gives to the company's chicken growers to feed later generations of chickens — meaning through this process, chickens could be fed parts of their parents, grandparents or other relatives.
"Hormel has done everything it can to deceive customers looking for 'natural' foods by simply changing its branding while continuing to harm animals and put workers and consumers at risk," says Animal Legal Defense Fund Executive Director Stephen Wells. "Consumers want to make informed choices that reflect their values which is why transparency is so critical — and why we have laws to protect consumers from being misled."
In September 2021, the District of Columbia Court of Appeals revived the case against Hormel Foods after it had initially been dismissed. The appeals court reversed a lower court's ruling, finding that the Animal Legal Defense Fund has standing to pursue its false advertising claims against Hormel Foods, and that those claims are not preempted by federal animal products labeling laws.
In a watershed ruling for consumer protection of all types, the Court ruled for the first time that the DCCPPA allows qualifying nonprofit organizations to sue to enforce the DCCPPA without having to demonstrate federal court standing. This decision was an important win for consumers as it keeps the doors of Washington D.C. courthouses open for consumer claims.
The 2016 lawsuit was filed following an Animal Legal Defense Fund undercover investigation revealing significant animal neglect and violations of laws protecting both consumers and animals at a Nebraska-based factory farm owned by The Maschhoffs, LLC, a major Illinois-based pig producer and one of Hormel Foods' largest suppliers.
The Animal Legal Defense Fund thanks its co-counsel Public Justice, as well as the Rezvani Law Firm LLC and Richman Law Group.
Related
Meat and dairy alternatives can use common naming conventions in the state without fear of prosecution

Lawsuit asserts the law creates a patchwork of standards that threaten to preclude nationwide sales for plant-based meat producers

This week the Animal Legal Defense Fund submitted comments to the U.S. Food and Drug Administration (FDA) advocating for accurate, consistent, and flexible labeling of cell-cultured fish and shellfish products — meat or flesh grown from the cells of fresh or saltwater finfish, crustaceans, and other forms of aquatic animal life.