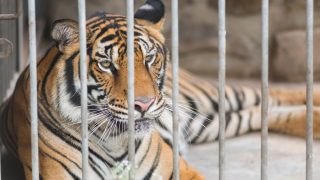 Bill Banning Private Possession of Big Cats Reintroduced in House of Representatives
The Big Cat Public Safety Act would help end the rampant abuse of tigers and other big cats in captivity
Contact: media@aldf.org
WASHINGTON, D.C. – Today Representatives Mike Quigley (D-IL) and Brian Fitzpatrick (R-PA) reintroduced the Big Cat Public Safety Act (H.R. 263) in the U.S. House of Representatives. The House of Representatives voted 272 to 114 to pass the same bill in December. Endorsed by the Animal Legal Defense Fund, the bill prohibits the private possession of big cats and makes it illegal for exhibitors to allow direct contact with cubs.
"Big cats have highly complex physical and social needs that cannot be met in a backyard or basement," said Animal Legal Defense Fund Executive Director Stephen Wells. "Listening to the countless Americans who urged Congress to protect these animals and crack down on the cruel big cat trade, the House of Representatives passed a previous version of this bill by a substantial margin in December. It's time for Congress to act and end the private possession of tigers, lions, and other big cats nationwide."
"Animals like tigers, lions, leopards, and pumas simply do not belong in private ownership. Not only does it place the public, including law enforcement and first responders, in grave danger – it also often results in these animals living in miserable conditions. After passing the House of Representatives last year with strong bipartisan support, I look forward to the Big Cat Public Safety Act advancing quickly and hopefully being signed into law this year. It's long past time that we act to protect the public and ensure big cats are treated humanely," said Representative Quigley.
While some states have restricted or banned the private possession of certain wild animals, other states have virtually no regulations, leaving big cats vulnerable to abuse. The Big Cat Public Safety Act closes this gap and also makes it illegal for exhibitors, such as circuses and zoos, to allow direct contact with cubs. Some facilities actually encourage visitors to interact with cubs, such as bottle-feeding tiger cubs, for an extra fee, endangering cubs and visitors alike.
Big cats belong in the wild or, in situations where captive animals can no longer safely be returned to the wild, in reputable sanctuaries. Allowing untrained people to maintain big cats in their homes is not only cruel, it also threatens public safety. Lions, tigers, and other big cats are powerful animals who can easily kill or severely injure humans.
Last April, the Animal Legal Defense Fund teamed up with Blackfish Director Gabriela Cowperthwaite to launch an online petition urging Congress to pass the Big Cat Public Safety Act. Dozens of Hollywood stars, including actors and activists Kate Mara and Joaquin Phoenix, have signed the petition.
The Senate version of the bill is expected to be introduced soon.
Related
The bill helps end the rampant abuse of tigers and other big cats in captivity by banning private possession

Graphic images of wound are posted on Tik-Tok by an employee of Gator Park — a facility owned and operated by Jason Clay.

The lawsuit alleges federally endangered and threatened animals such as the tigers, lions, and ring-tailed lemurs are receiving inadequate care at Tiger Creek
Help animals win the legal protections they so desperately need and deserve, and ensure they have an advocate in courtrooms and legislatures across the country.
Take Action Now