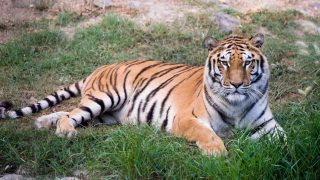 House Votes to Ban Private Possession of Big Cats
The Big Cat Public Safety Act prohibits private possession of tigers, lions, and other big cats to prevent animal cruelty and protect the public
Contact: media@aldf.org
WASHINGTON, D.C. – Today the House of Representatives voted 272 to 114 to pass the Big Cat Public Safety Act. Endorsed by the Animal Legal Defense Fund, the bill prohibits the private ownership of big cats and makes it illegal for exhibitors to allow direct contact with cubs.
"Tigers don't belong in backyards," said Animal Legal Defense Fund Executive Director Stephen Wells. "After the Netflix documentary, 'Tiger King,' brought big cat captivity and trade into the national spotlight, public support for this critical animal protection bill has only intensified with thousands of Americans, as well as dozens of celebrities, calling on Congress to act. It's time to end the private possession of tigers, lions, and other big cats nationwide."
There are few federal laws protecting the millions of wild animals living in captivity in the United States. The patchwork of state laws addressing the private possession of big cats is insufficient to protect them from cruelty as well as the public from dangerous encounters. Some states have outlawed private possession while other states do not regulate private possession of big cats at all.
Big cats belong in the wild or, in situations where captive animals can no longer safely be returned to the wild, in accredited sanctuaries equipped to meet their complex physical and psychological needs. Private possession of big cats endangers those living close by, as well as first responders who are ill-equipped to handle situations where animals have escaped. Furthermore, it fuels the wild "pet" trade, creating a financial incentive for people to breed big cats for the purpose of selling the cubs.
"After months of the public loudly and clearly calling for Congress to end private big cat ownership, I am extremely pleased that the House has now passed the Big Cat Public Safety Act. Big cats are wild animals that simply do not belong in private homes, backyards, or shoddy roadside zoos. Too often, law enforcement and first responders are the ones who end up in danger from these animals and, in a time when our first responders are already facing increased risk from the pandemic, we owe it to them to limit the additional dangers they face on the job," said Representative Mike Quigley. "Animals like tigers, lions, leopards, and pumas should not be exposed to the miserable conditions so many of them in our country currently face. By passing the Big Cat Public Safety Act we are one step closer to ensuring these animals are treated humanely and to keeping the public safe from dangerous big cats. It is my hope that the Senate will quickly bring this bill to the floor so we can get it signed into law before the year ends."
"I am pleased to see the House passed our Big Cat Public Safety Act today. For too long, big cats have been mistreated, exploited, and abused in private roadside zoos," said Representative Brian Fitzpatrick. "As a member of the bipartisan Congressional Animal Protection Caucus, I'm committed to ensuring our government is doing its part to promote animal welfare. It is crucial we stand up for animals, both as individuals and as a society, and our legislation takes an incredible step to protect all animals."
In April, the Animal Legal Defense Fund teamed up with Blackfish Director Gabriela Cowperthwaite to launch an online petition urging Congress to pass the Big Cat Public Safety Act. Dozens of Hollywood stars, including actors and activists Kate Mara and Joaquin Phoenix, have signed the petition.
Representatives Mike Quigley (D-Ill) and Brian Fitzpatrick (R-PA) introduced the House version of the Big Cat Public Safety Act and Senator Richard Blumenthal (D-CT) introduced the Senate version of the bill in 2019.
Related
The bill helps end the rampant abuse of tigers and other big cats in captivity by banning private possession

Graphic images of wound are posted on Tik-Tok by an employee of Gator Park — a facility owned and operated by Jason Clay.

The lawsuit alleges federally endangered and threatened animals such as the tigers, lions, and ring-tailed lemurs are receiving inadequate care at Tiger Creek
Help animals win the legal protections they so desperately need and deserve, and ensure they have an advocate in courtrooms and legislatures across the country.
Take Action Now