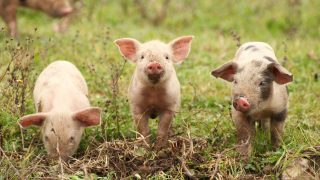 Berkeley Law Fundraiser in Honor of "Turk"
Last fall, two Berkeley Law students were arrested for torturing and killing Turk, a helmeted guinea fowl living at the Flamingo Hotel's wildlife habitat in Las Vegas.
We at the Berkeley Law Animal Legal Defense Fund Student Chapter were of course saddened and disturbed when we heard the news. In response to these allegations, we sent an email to the entire Berkeley Law community that underscored the heinousness of acts of animal cruelty without indicting the two students (one of whom has plead guilty to the misdemeanor charge of instigating an act of animal cruelty, while the other faces felony animal torture and killing charges).
Additionally, Animal Legal Defense Fund attorney Scott Heiser came to campus to give a talk regarding his experiences helping law enforcement and prosecutors investigate and litigate animal cruelty cases. Still, we wanted to do something proactive ourselves to raise awareness about the seriousness of animal cruelty, so we established "National Anti-Cruelty Day."
On National Anti-Cruelty Day, April 2nd, 2013, many Animal Legal Defense Fund Student Chapters across the country stood against animal cruelty by holding fundraising events in Turk's honor at their respective campuses. All of the proceeds from the fundraisers went toward Animal Legal Defense Fund's Criminal Justice Program – which provides free legal assistance to prosecutors and law enforcement agencies (which too often lack the resources or the special expertise needed to prosecute criminal abuse cases) – so as to lend support to the ongoing battle to put perpetrators of animal cruelty behind bars.
National Anti-Cruelty Day also served as an opportunity for education and outreach, stimulating a discussion of how the responses of the greater law school community (and the Berkeley Law community in particular) may have differed had the students decapitated a dog or cat instead of a bird, as well as whether individuals who have been convicted of acts of animal cruelty are fit to be sent out into the world as lawyers.
National Anti-Cruelty Day was a resounding success. 19 Animal Legal Defense Fund Student Chapters from around the country participated in this day of action to honor Turk and raise awareness about animal cruelty, and together they raised more than $4,000 to support Animal Legal Defense Fund's work to ensure that state criminal anti-cruelty statutes are vigorously enforced and that those convicted of animal cruelty and neglect receive appropriate sentences. The event was so successful that it will be held annually moving forward as part of Animal Legal Defense Fund's National Justice for Animals Week, which takes place every February.
In addition to planning National Anti-Cruelty Day, Berkeley's Animal Legal Defense Fund Student Chapter was one of the seven chapters that organized the inaugural California Annual Animal Law Symposium (CAALS), a first-of-its-kind event that took place in spring 2013 at nearby Golden Gate University and was organized entirely by students.
CAALS brought together legal practitioners across the country, including several Animal Legal Defense Fund attorneys, to present on animal law topics such as concentrated animal feeding operations, municipal dog breed bans, and the intersections between consumer protection law and animal law. We also hosted an event on the inadequacy of legal protections for laboratory animals in scientific research, with a particular focus on animals in university laboratories.
The Berkeley Law School Animal Legal Defense Fund Student Chapter looks forward to another year of important animal advocacy initiatives and events, including the second annual National Anti-Cruelty Day and the CAALS.
This spotlight was submitted by Matthew Hamity, co-director of the Berkeley Law School Animal Legal Defense Fund Student Chapter and 2013 recipient of an Animal Legal Defense Fund Advancement of Animal Law Scholarship.
Recent News
Petition urges recordkeeping of all deaths and reporting to the agency every three years from Animal Welfare Act licensees

Following the dismissal of Justice's case upheld on appeal, the Animal Legal Defense Fund continues to seek accountability under the law.

The Animal Legal Defense Fund is looking for individuals who have visited either the East Texas Zoo & Gator Park or the Franklin Drive Thru Safari. If you are willing to speak to us about your…