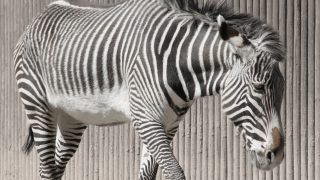 Animal Legal Defense Fund Offers Assistance in Investigating Zebra Who Died in the Cold
Case shows the need for stronger animal protection laws
The Animal Legal Defense Fund, the nation's preeminent legal advocacy organization for animals, is offering our assistance in investigating the death of a zebra who died after being left out in last week's record breaking subzero weather in northern Indiana. We also renew our call for stronger animal protection laws, and stronger enforcement of those laws.
"Those who keep animals must be held responsible for ensuring their safety during extreme heat and cold," says Animal Legal Defense Fund Executive Director Stephen Wells. "This zebra's death is tragic, and could have been easily avoided."
The zebra is thought to have become caught in a fence and died on the night of January 29 or the morning of January 30. The Carroll County Sheriff's Office in Carroll County, Indiana, told press that the zebra's back hooves appeared to have gotten caught in a fence on the property — a farm about 65 miles northwest of Indianapolis. While trapped, air crystallized in the zebra's lungs, leaving the animal unable to breathe.
Sonya Kendall, a local resident who discovered and photographed the zebra on the morning of January 30, told The Hill she believes this story highlights the need for "stricter regulations on exotic animal ownership [and] more specific language in the laws that outline what is really adequate and safe shelter, especially in extreme weather situations."
Indiana earned the 10th spot on the Animal Legal Defense Fund's 13th annual year-end U.S. Animal Protection Laws Rankings Report (2018), ranking the animal protection laws of all 50 states. That this type of tragedy was still able to occur points to a clear need for stronger legal protections nationwide.
Like many other states, Indiana's criminal animal cruelty laws only require shelter for dogs and cats. Other species are—quite literally—left out in the cold. Indiana does have a regulation requiring that "livestock," including zebras, have "access to sufficient shelter from the weather when it can reasonably be expected to be necessary to maintain the health of animals." However the violation of that regulation is not a crime; the maximum penalty is a $25,000 civil fine for each day of the violation.
A second zebra survived and has been moved to another property. A kangaroo, miniature horse, and other animals remain on the property. Law enforcement has stated that shelters provided to the animals meet state standards, but the zebra's death was still being investigated.
The Animal Legal Defense Fund offers assistance with any investigation, and any resulting legal actions.
Related
On February 8, 2022, the Washington State Supreme Court issued a decision in the case State v. Charmarke Abdi-Issa, holding that animal cruelty could be designated a crime of domestic violence, and that an animal's guardian could be considered a victim of the crime.

The Animal Legal Defense Fund, the nation's leading legal advocacy organization for animals, has tips for how you can make sure your companion animals sail through even the worst weather winter has to offer.

On an early August morning, 34 horses seized from a scene of severe neglect began their 107th day in state custody. Horse rescue volunteers had nursed the horses back to health, and ready to be adopted. But the horses needed one more thing...
Help animals win the legal protections they so desperately need and deserve, and ensure they have an advocate in courtrooms and legislatures across the country.
Take Action Now