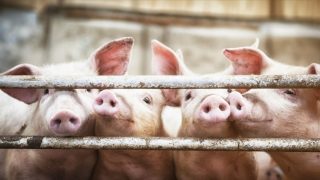 Speak Out for Farmed Animals Month
All animals deserve legal protection
The Animal Legal Defense Fund launched Speak Out for Farmed Animals Month as a way to raise public awareness nationwide about the lack of meaningful laws to protect farmed animals from cruel treatment. This annual event is the perfect opportunity to to shine a light on the stories of farmed animals.
Join the Animal Legal Defense Fund for a month of action for farmed animals during October!
Want to get a head start on planning your event? Here are some ideas for how you can speak out for farmed animals:
Have a movie night with friends! Cowspiracy,The Ghosts in Our Machine, and Earthlings are all good introductions to the plight of farmed animals.
Visit or volunteer at a farmed animal sanctuary! Meeting animals face-to-face is a great way to fully appreciate how much cows, chickens, and pigs are individuals deserving of our respect and kindness. Find a sanctuary near you!
Have a Meatless Monday at your office or at home! By showing how easy it is to eat a meat-free meal, you help other people choose more plant-based options, sparing the lives of farmed animals.
Email or call your representative about pending local, state, or federal legislation impacting farmed animals, including Ag-Gag bills.
Organize a benefit day for the Animal Legal Defense Fund by contacting a local vegan/vegetarian restaurant or animal-friendly business to see if they would donate a percentage of their total daily sales to to help us in our groundbreaking legal work for animals.