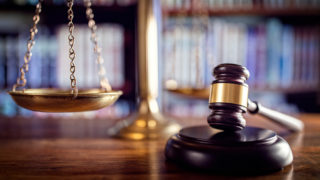 The Animal Legal Defense Fund provides these resources to help you learn how animal protection laws function within the legal system.
Animals and the Law
The field of animal law is complex. Use these articles as a guide to understand the fundamentals.
What You Can Do
Do you need help with a specific legal situation involving an animal? Our guides below are provided with that end in mind.
Other Resources

The federal rules of evidence, which govern the introduction of evidence in proceedings in federal court, state that an individual can qualify as an expert witness based on her knowledge, skill, experience, training, or education.

This summary is a general overview about criminal cases. It covers the key stages and will briefly explain what might happen in court.

You can be an advocate for animals at any age. Check out ideas of how you can get involved.

Americans care about animals. That is why, more and more, consumers are demanding better treatment for animals raised for food: including egg laying chickens.

While animal testing is still far too prevalent, some countries and states have implemented laws that reduce the number of animals used in laboratory experiments.

What is a civil lawsuit, and how does such a lawsuit proceed through the legal system? This is a general overview about civil lawsuits. It covers the main steps along the way, and the most important terms to know.

A state's criminal animal cruelty statutes may address animal fighting generally or may identify specific types of animal fighting, such as dogfighting, cockfighting or hog-dog fighting, as unlawful.

The Animal Welfare Act is the name for United States Code Title 7 Chapter 54 "Transportation, Sale, and Handling of Certain Animals." It is one of a handful of federal laws that provide very limited protections for animals.
Since 1979, the Animal Legal Defense Fund has been the leader in the fight to win animals the legal protection they so desperately need—and deserve. Your generous support is vital to our continued success.
FIND OUT MORE