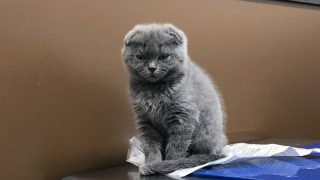 Urge the USDA to Investigate Adorable Stars and Protect Kittens
Unlicensed animal dealer sells sick, parasite-ridden kittens in violation of the Animal Welfare Act
More than 70,000 viewers follow the Adorable Stars kitten cam, a live video stream from a breeding operation near Orlando, Florida.
But behind the camera, cats and kittens are suffering. Adorable Stars markets itself as a "luxury" breeder of kittens from sought-after breeds, but many of the kittens it sells suffer from preventable, communicable diseases; parasite infestations; and other health issues. Some of these kittens have died shortly after arriving at their new homes, and the Animal Legal Defense Fund is currently representing three kitten buyers in their [lawsuit] against the facility and its operators.
As a commercial animal dealer, Adorable Stars is required by the federal Animal Welfare Act to maintain a dealer license issued by the U.S. Department of Agriculture (USDA). But Adorable Stars has no such license, and the Animal Legal Defense Fund is urging the USDA to investigate the facility and take urgently needed action to protect cats, kittens, and potential buyers from further harm.
Join the Animal Legal Defense Fund's email list to stay up to date on lawsuits, legislation, and regulations affecting animals.
Sign Up Now
Related
A Courtroom Animal Advocate Program (CAAP) bill, S.2868/A.4533, which would allow law students and volunteer lawyers to advocate for animal victims in cruelty criminal cases, unanimously passed the New Jersey Senate. The bill is sponsored by Senator Nicholas Scutari and Assemblyman Raj Mukherji and endorsed by the Animal Legal Defense Fund.

Breeding operation, Adorable Stars, sells parasite-ridden kittens suffering from severe and fatal ailments

Animal protection advocate and actress Kim Basinger sent a letter to Craigslist CEO Jim Buckmaster with an urgent request the company end all animal posts on its platform.