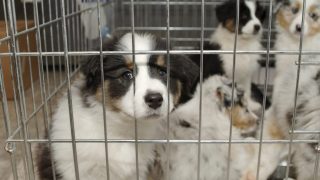 Maryland Becomes Second State to Ban Retail Sales of Animals Sourced from Puppy and Kitten Mills
By Nicole Pallotta, Academic Outreach Manager
Update: As of September 2023, seven states — California, Maryland, Maine, Washington, Illinois, New York, and Oregon — have banned the retail sale of animals sourced from puppy mills.
On April 24, 2018, Governor Larry Hogan signed into law HB 1662, the "No More Puppy-Mill Pups Act of 2018," making Maryland the second state to ban the retail sale of dogs and cats obtained from commercial breeding facilities.
California was the first state to enact a similar ban in October 2017. Hundreds of North American cities and counties also have similar bans in place. These laws are an important tool in combating cruel large-scale animal breeding facilities like puppy and kitten mills.
According to Maryland's new law, retail pet stores may only offer a dog or cat for sale if the animal is obtained from an animal protection organization, an animal control unit, the original breeder of the dog or cat, or a dealer that obtained the animal from the original breeder (if both breeder and dealer meet certain requirements). Outside of the above exceptions, "a retail pet store may not offer for sale or otherwise transfer or dispose of cats or dogs."
Retail pet stores in Maryland have until January 1, 2020, to comply with the new law. California's law is even stronger than Maryland's in that it does not allow pet stores to sell companion animals obtained from breeders; only sales of animals obtained from public animal control agencies, shelters, or rescue groups are authorized. California's law also includes rabbits. Although unsuccessful in their efforts, seven Maryland pet stores that will be affected by the new legislation lobbied against the bill.
As reported by the Washington Post:
… Del. Benjamin F. Kramer (D-Montgomery), the legislation's sponsor and a longtime owner of adopted Doberman pinschers, called the commercial breeders that supply the stores "abominations" that lack "room for puppies to roam and for breeding dogs to play."
Retail sales bans are part of the growing movement to fight against puppy and kitten mills, large-scale commercial breeding facilities that keep animals in poor conditions while mass-producing them for sale. Retail pet stores that sell live animals sourced from puppy and kitten mills (or from third party brokers who procure animals from these types of breeders) provide very little information to consumers about the origin of the animals. Federal standards for these facilities are notoriously lax, which has been an impetus for the passage of these so-called "retail pet sale ban" laws at the state and local level.
We are likely to see more retail pet sale laws enacted at the state and local level. Hundreds of communities have passed similar legislation, including major cities like Chicago, Los Angeles, and Philadelphia – and the legislative trend shows no signs of slowing down. Just in 2018, about a dozen such new city laws have been enacted across the nation in Washington state, New Jersey, Florida, Georgia, Wyoming, and Minnesota, and many more are pending.
In addition to outright bans, puppy mills may be approached using several areas of the law. The Animal Legal Defense Fund is working across the country to combat commercial breeding facilities from multiple legal channels, including litigation to work toward improved conditions in puppy mills until they are outlawed completely.
In July 2017, the Animal Legal Defense Fund filed a class action lawsuit against Petland, a national pet store chain, and the chain's Kennesaw, Georgia location. In October 2017, we sued to shut down a puppy mill in Northern California. Finally, after Animal Legal Defense Fund and pro bono attorneys fought for years to get justice for consumers who unknowingly bought puppy-mill puppies from Barkworks pet stores, we were able to resolve that hard-fought lawsuit to the mutual satisfaction of the parties.
Further Reading
Related
Laws like California's are part of a growing movement to combat large-scale commercial breeding facilities.

Following a week-long trial in 2022, a Los Angeles Superior Court Judge issued a decision finding that Craigslist puppy traffickers committed animal neglect and fraud by selling fatally sick dogs to families.

Animal Legal Defense Fund's amicus brief urges the court to review a case regarding the negligent death of a dog and the resulting emotional damages