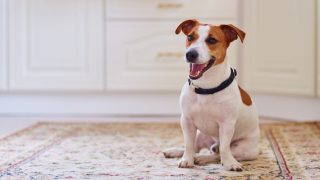 California Becomes First State to Ban Retail Sale of Companion Animals
By Nicole Pallotta, Academic Outreach Manager
On October 13, 2017, California Governor Jerry Brown signed into law AB 485, which prohibits pet stores from selling dogs, cats, and rabbits unless they are obtained from a shelter or rescue organization. Although a growing number of jurisdictions have passed similar legislation – including major cities like Chicago, Los Angeles, and Philadelphia – California is the first state to ban the retail sale of companion animals.
Beginning January 1, 2019, California's new law will prohibit:
A pet store operator from selling a live dog, cat, or rabbit in a pet store unless the dog, cat, or rabbit was obtained from a public animal control agency or shelter, society for the prevention of cruelty to animals shelter, humane society shelter, or rescue group… The bill would require all sales of dogs and cats authorized by this provision to be in compliance with laws requiring the spaying or neutering of animals, as specified… The bill would make a pet store operator who violates these provisions subject to a civil penalty of $500 per animal, as specified.
It also expands on a provision in the existing law that "authorizes a public or private shelter to enter into cooperative agreements with animal rescue or adoption organizations regarding dogs and cats" to include rabbits. Notably, the law does not prohibit individuals from purchasing an animal directly from a private breeder.
Laws like California's are part of a growing movement to combat puppy and kitten mills, large-scale commercial breeding facilities that keep animals in poor conditions while mass-producing them for sale. Retail pet stores that sell live animals source from puppy and kitten mills (or from third party brokers who do) and provide very little information to consumers about the origin of the animals.
Federal standards for these facilities are notoriously lax, which was an impetus for California's new law, the first to regulate the sale of companion animals at the state level. As reported by The New York Times: "A summary and fact sheet about the bill said it was meant to address 'extremely minimal' federal standards, such as the requirement that a cage be only six inches larger than the animal it housed and cleaned just once a week."
Legislative efforts to ban the retail sale of companion animals began in earnest after the passage of the first such law in Albuquerque in 2006. In the decade since, more than 200 cities and counties have passed similar laws. Now, with the first statewide ban having been enacted, we can expect even more momentum on this front.
Unsurprisingly, these laws have not gone without challenge from the pet store and puppy mill industries. But in an important decision issued in September 2017, the Seventh U.S. Circuit Court of Appeals upheld Chicago's ordinance banning the sale of dogs, cats, and rabbits from large commercial breeders.
The lawsuit, brought by two Chicago pet stores and a Missouri breeder, argued that Chicago had violated both the Illinois State Constitution, by overstepping its home rule powers, and the U.S. Constitution's Dormant Commerce Clause, by illegally blocking interstate commerce. A federal judge ruled in favor of the city in 2015, and that decision has now been upheld on appeal.
Animal Legal Defense Fund members responded to action alerts we sent about this bill encouraging its passage, and numerous Animal Legal Defense Fund Student Chapters wrote letters to Governor Brown in support. Until they are outlawed completely, the Animal Legal Defense Fund also uses litigation to work toward improved conditions in puppy mills.
In a landmark victory in Pennsylvania in 2016, the court struck down exemptions that had significantly weakened state law regulations as applied to puppy mills.
The decision restored the integrity of the law and reinstated a comprehensive set of requirements for commercial dog breeders, including prohibitions on metal wire flooring and never letting mother dogs outside to exercise. Last year, the Animal Legal Defense Fund, with the Humane Society of the United States and law firm Locke Lord LLP, also settled a lawsuit against Chicago pet store chain Furry Babies, which is now required to disclose the specific source of its puppies, thereby giving consumers who do not wish to support the cruel puppy mill industry the ability to make an informed choice.
In July 2017, the Animal Legal Defense Fund filed a class action lawsuit against Petland, a national pet store chain, and the chain's Kennesaw, Georgia location. In October 2017, we sued to shut down a puppy mill in Northern California. Finally, the Animal Legal Defense Fund and pro bono attorneys have been fighting for three years to get justice for consumers who unknowingly bought puppy-mill puppies from Barkworks pet stores.
Public awareness has likely contributed to the recent proliferation of legislation prohibiting the sale of companion animals not sourced from a shelter or rescue.
Advocates have focused in recent years on exposing the inhumane treatment of animals in puppy and kitten mills – including overcrowded, unsanitary conditions without adequate socialization or exercise, and often lacking appropriate veterinary care, food, and water.
As a result, animals bred in these facilities tend to suffer from myriad health and behavior problems. These living conditions, like so many in which animals are exploited, are hidden from public view. But as campaigns to bring these conditions to light continue to be successful, public criticism has mounted regarding pet stores and the cruel puppy mills behind them. As more people choose to adopt rather than buy a companion animal, we can expect to see the notion that animals are sentient beings with inherent value, rather than commodities to be bought and sold, increasingly reflected in our laws.
Further Reading:
Related
Animal Legal Defense Fund's amicus brief urges the court to review a case regarding the negligent death of a dog and the resulting emotional damages

Goldie's Act would ensure the USDA does its job to protect dogs in federally licensed puppy mills

Alternative sentencing program in Fulton County, Georgia pairs shelter dogs with criminal defendants to offer both training and a second chance