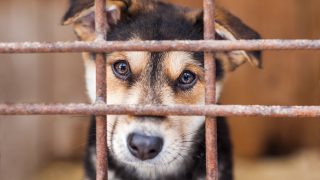 Animal Legal Defense Fund Announces Resolution of Lawsuit Against Barkworks for Selling Sick "Puppy Mill" Puppies
Closure for case combatting California pet store chain's alleged misrepresentations.
Contact: media@aldf.org
Santa Ana, CA – The Animal Legal Defense Fund reached a formal resolution in a hard-fought lawsuit against Barkworks, a pet store chain in Southern California. The lawsuit, which alleged that Barkworks orchestrated a scheme to trick buyers into purchasing sick puppies sourced from puppy mills in violation of California consumer protection laws, was resolved to the mutual satisfaction of the parties. Animal Legal Defense Fund brought the lawsuit on behalf of Barkworks puppy purchasers harmed by Barkworks practices they claimed were illegal and deceptive.
The action alleged that Barkworks misrepresented its puppy mill breeders as "reputable," falsely claimed that all its puppies were healthy at the time of sale and provided inaccurate breeder license numbers.
After the lawsuit was filed, the Animal Legal Defense Fund learned about many other Barkworks consumers, including purchasers who had to rush their new puppy for emergency veterinary treatment only days after bringing the puppy home.
When the lawsuit was filed in 2014, Barkworks had six stores across Southern California. In the intervening years, the in-store signage challenged in the lawsuit as false and misleading – including signs claiming puppies received veterinary checks and advertising its puppies as coming from "responsible breeders" – was taken down from the stores.
Barkworks also closed four of the stores, and its remaining two stores will likely close by January 1, 2019, when California's law banning the sale of dogs from commercial breeders comes into effect.
"We're pleased to have reached a resolution of our action against Barkworks," says Animal Legal Defense Fund Executive Director Stephen Wells. "The increasing number of communities across the country prohibiting the retail sale of pets make it clear that the era of stores selling puppies is waning, thanks to advocates' efforts."
Related
The Los Angeles Superior Court has granted a preliminary injunction that halts the Kenneys, unscrupulous internet puppy sellers, from advertising and selling puppies until the lawsuit is decided on the merits.

Animal Legal Defense Fund challenges the renewed license for the owner of Wildlife on Wheels after evidence has revealed ongoing violations for more than a decade

A Courtroom Animal Advocate Program (CAAP) bill, S.2868/A.4533, which would allow law students and volunteer lawyers to advocate for animal victims in cruelty criminal cases, unanimously passed the New Jersey Senate. The bill is sponsored by Senator Nicholas Scutari and Assemblyman Raj Mukherji and endorsed by the Animal Legal Defense Fund.