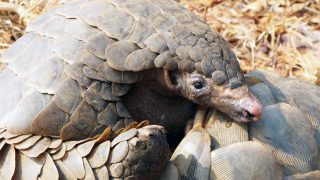 United States: Urge Congress to Shut Down Commercial Wildlife Markets
This action is for US residents only.
Wild animals sold in commercial wildlife markets endure extreme stress and unsanitary conditions before being slaughtered. Live markets concentrate a diversity of animals into small spaces, packing and stacking them on top of one another, creating a breeding ground for deadly pathogens. The Preventing Future Pandemics Act (S. 37/H.R. 151) aims to shut down these dangerous and cruel markets.
The bill directs the State Department to work to shut down commercial wildlife markets and associated wildlife trade, prohibits the import, export, and sale of live wild animals for human consumption in the United States, and funds programs to phase out the demand for wildlife as a food source.
As the world continues to grapple with COVID-19, our continued exploitation of animals and our environment is fueling the next pandemic. Shutting down commercial wildlife markets — and the international wildlife trade — is critical both to reducing the risk of novel zoonotic disease and animal suffering.
Please urge your U.S. Representative and Senators to co-sponsor the Preventing Future Pandemics Act. If your legislators are already a sponsor (see if yours are co-sponsors: House) | Senate), a thank you email will be generated instead. You will have the opportunity to review the text of the email before sending.

Join the Animal Legal Defense Fund's email list to stay up to date on lawsuits, legislation, and regulations affecting animals.
Sign Up Now
Related
Today the Delaware County district court granted a motion for contempt filed by the Animal Legal Defense Fund against Cricket Hollow Zoo and its owners, Pamela and Thomas Sellner, seeking the whereabouts of more than 100 animals who "disappeared" prior to a court-ordered rescue.

The Iowa Court of Appeals ruled in favor of plaintiffs represented by the Animal Legal Defense Fund in a lawsuit against Cricket Hollow Zoo for violating state animal cruelty laws following an appeal of the court's 2019 decision.

Additional $20,000 reward offered for information leading to the arrest and conviction of the person or people responsible for attacking and mutilating dozens of brown pelicans on the coast of Orange County, California.