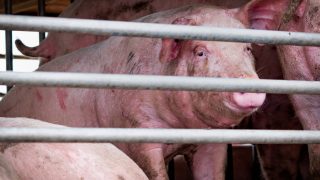 United States: Urge Congress to Protect Pigs from Cruel High-Speed Slaughter
THIS ACTION IS FOR U.S. RESIDENTS ONLY.
Last month, we asked you to contact your federal senators to protect pigs from high-speed slaughter. Earlier this year, the United States Department of Agriculture (USDA) issued a final rule removing all line speed limits and allowing pig slaughterhouses across the country to police themselves – leaving millions of pigs vulnerable to increased suffering and terror.
Now we need you to urge all members of Congress to keep language from the House Agriculture Appropriations bill in the final 2020 budget that would block funding for the implementation of this rule.
This rule expands a problematic pilot program that allowed five of the nation's largest pig slaughterhouses to increase the speed at which pigs are slaughtered. At one of these plants, killing pigs for Hormel Foods products like Spam and Natural Choice deli meats, an undercover investigation documented horrific abuse as employees struggled to keep up – including illegally dragging, kicking, beating and excessively shocking pigs with electric prods.  Other evidence has confirmed numerous instances of pigs who have not been rendered unconscious before being killed – resulting in animals being boiled alive in scalding tanks and left to bleed out.
The Animal Legal Defense Fund submitted comments to the USDA, urging the agency not to go forward with this dangerous rule. We're committed to continuing to fight it through every possible avenue. Help us protect pigs and contact your federal legislators today.
THIS ACTION IS FOR U.S. RESIDENTS ONLY.
Join the Animal Legal Defense Fund's email list to stay up to date on lawsuits, legislation, and regulations affecting animals.
Sign Up Now
Related
The USDA violated federal law in finalizing this rule, acting contrary to the mountain of evidence before it demonstrating the rule's dangers, and flouting humane slaughter and meat inspection laws.

Court rules slaughter operations violate state animal cruelty and slaughter laws.

Advocates for animals, free speech and the environment take on secrecy at factory farms following victories in Utah, Idaho, Wyoming and Iowa