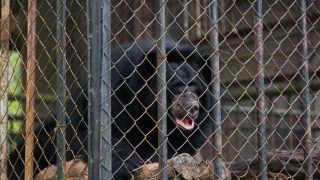 United States: Demand Accountability and Oversight from the USDA
This action is for U.S. residents only.
A U.S. Department of Agriculture (USDA) license is required of animal breeders, dealers, and exhibitors — such as roadside zoos and commercial dog breeders — in order to be in compliance with the Animal Welfare Act (AWA). The USDA commonly reissues licenses, even when there are ongoing or repeat violations.
H.R. 3277, the Animal Welfare Enforcement Improvement Act (AWEIA), would strengthen the AWA licensing and renewal processes to hold animal dealers and exhibitors accountable.
This legislation would also authorize citizen-filed lawsuits to enforce the AWA and require public disclosure of inspection reports and enforcement records.
Please urge your representatives to support the Animal Welfare Enforcement Improvement Act using the form below.
Join the Animal Legal Defense Fund's email list to stay up to date on lawsuits, legislation, and regulations affecting animals.
Sign Up Now
Related
Graphic images of wound are posted on Tik-Tok by an employee of Gator Park — a facility owned and operated by Jason Clay.

The lawsuit alleges federally endangered and threatened animals such as the tigers, lions, and ring-tailed lemurs are receiving inadequate care at Tiger Creek

The complaint asks the agency to enforce the Animal Welfare Act to protect animals exploited on social media platforms