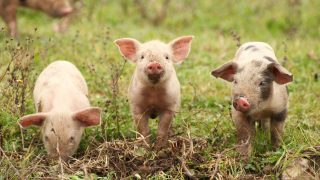 Florida A&M University College of Law – Spreading the Word About Animal Protection
The Florida A&M University (FAMU) College of Law Animal Legal Defense Fund Student Chapter has had a great year advocating for animals and educating students about the field of animal law.
The FAMU Animal Legal Defense Fund Student Chapter hosted two large speaking events this school year. With help from Professor Randall Abate and their co-sponsor, the Federalist Society, they presented The Legal Battle on Personhood Debate, featuring Steve Wise, president of the Nonhuman Rights Project, and Bob Kohn, fellow at the Center for Great Ideas.
The debate focused on whether animals should be recognized as legal persons. This event was a huge success. They had law professors, local attorneys, and students from other local law schools attend. They were also able to introduce the audience to delicious plant-based food, which was enjoyed by all.
They also hosted a speaker from the Animal Rights Foundation of Florida, which works to protect the rights of animals in Florida through public demonstrations, outreach events, letters to the editor, and humane education. This year the organization was working to pass legislation in Florida regarding treatment of greyhounds used in racing, and they spoke to the chapter on how to get involved in passing local ordinances.
In March, the chapter will be hosting local attorney and animal advocate Anjali Sareen. She will speak about animal law and protection, as well as her work as chair of the Committee to Protect Greyhounds, a political action committee that works to pass ballot initiatives that reform and phase out greyhound racing in the state.
The FAMU Animal Legal Defense Fund Student Chapter built bridges with other law student organizations by co-sponsoring a social event with the FAMU Environmental Law Society at a local brewery. Chapter members also strengthened relationships with other local animal advocates, as members of the University of Central Florida's student animal protection organization were in attendance. They also invited law professors and local attorneys. They toured the brewery, socialized, and served Loving Hut (vegan Vietnamese food).
FAMU's Animal Legal Defense Fund Student Chapter is also active in their local community. Chapter members visited and volunteered at Kindred Spirits, an animal sanctuary that is "dedicated to ending the abuse and suffering of farm[ed] animals through direct rescue, advocacy and education."
They volunteered for two hours cleaning the pig barn, and toured the sanctuary, where they met pigs, cows, horses, goats, chickens, and turkeys. FAMU's Student Chapter members brought fruits and vegetables to feed the animals, and they ended the tour with a plant-based lunch provided by the sanctuary. They plan to visit the sanctuary again next year because everyone enjoyed it so much.
FAMU's Student Chapter members also collected donations, such as cleaning supplies and food, for a local companion animal shelter, the Pet Alliance of Greater Orlando. In March and April, they plan to visit Save the Chimps, a sanctuary for chimpanzees rescued from research laboratories, entertainment, and the pet trade industry, and the Barrier Island Sanctuary, an educational nature sanctuary, to take a tour and help clean up a beach where sea turtles lay their eggs.
The president and vice president of FAMU's Animal Legal Defense Fund Student Chapter traveled to Portland, Oregon, for the annual Animal Law Conference in October 2015, supported by an Animal Legal Defense Fund Student Chapter travel grant. They had a great time attending the conference, listening to the speakers, and meeting animal law professors and attorneys. They also enjoyed all the beautiful nature the state of Oregon has to offer.
For the upcoming Animal Legal Defense Fund week of action to raise awareness of criminal animal law issues, National Justice for Animals Week, they have many events planned. These include showing a film (Racing Extinction or Cowspiracy: The Sustainability Secret) and hosting a speaker from Harbor House, a shelter for victims of domestic violence and their companion animals, to speak about the link between domestic violence and animal abuse.
FAMU's Animal Legal Defense Fund Student Chapter will also be making enrichment toys for the cats and dogs at Pet Alliance of Greater Orlando and Orange County Animal Services, and collecting donations for these organizations.
Thank you to Florida A&M University (FAMU) College of Law Animal Legal Defense Fund Student chapter for your dedication to protecting animals!
Recent News
Petition urges recordkeeping of all deaths and reporting to the agency every three years from Animal Welfare Act licensees

Following the dismissal of Justice's case upheld on appeal, the Animal Legal Defense Fund continues to seek accountability under the law.

The Animal Legal Defense Fund is looking for individuals who have visited either the East Texas Zoo & Gator Park or the Franklin Drive Thru Safari. If you are willing to speak to us about your…