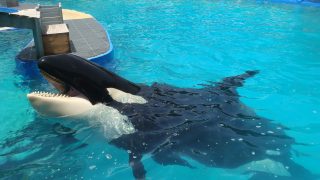 2016-2018: Captive Wild Animals
Student Chapters Program Guide
Each year, the Animal Legal Defense Fund provides resources to help its student chapters focus on a specific priority issue. The Student Chapter Program Guide contains an overview of the issue, Animal Legal Defense Fund's involvement, and suggested activities, such as film screening suggestions, a reading list, and suggested speakers. This year's priority issue is Captive Wild Animals.
Overview
Many wild animals in captivity are used for "entertainment," though some are also considered "pets." Illegal trafficking in rare and exotic wild animals is a $10 to $20 billion-a-year business, the profits of which come at the expense of broken families and countless injured and/or dead animals.
Wild animals often suffer greatly in captivity because they are placed in utterly foreign habitats—obviously a metal cage and a concrete floor is unnatural living for virtually every species, but even changes in climate, topography, and flora and fauna can put wild animals under physical and psychological strain. Captive animals typically live much shorter lives than their wild counterparts: for example, captive orcas have about one-third the average lifespan as wild orcas, who can live to be more than 100 years old!
Legal Protection for Captive Wild Animals
Very few federal laws protect the millions of wild animals who live in captivity in aquariums, circuses, theme parks, and zoos in the U.S. The primary federal law, the Animal Welfare Act (AWA), regulates licensing, housing, exhibiting, transporting, and caring for captive wild animals. It was adopted by Congress to protect "warm-blooded" animals bred for commercial sale, used in research, transported commercially, or publicly exhibited—like tigers, lions, elephants, bears, and nonhuman primates. But it excludes protection for birds, rats, and mice, farmed animals, and "cold-blooded" animals.
Furthermore, it establishes only minimal standards of care for licensing exhibitors. It does not restrict the display or private ownership of captive wild animals or prohibit the use of controversial bull hooks, whips, electrical shock, or other devices commonly used in circuses. The USDA inspects circuses as infrequently as once a year and local inspectors are often inadequately trained to look for signs of abuse and neglect.
The Convention on International Trade in Endangered Species of Wild Fauna and Flora (CITES) is an international treaty adopted by the U.S. in 1975 that regulates wildlife trade for all joined nations. It prohibits the trade in living or dead wildlife for some endangered species and bans the import of certain species for commercial purposes. The Endangered Species Act (ESA) protects fish, mammals, birds, and plants listed as threatened or endangered in the U.S. and beyond. It outlines procedures for federal agencies to follow regarding listed species, as well as criminal and civil penalties for violations. Neither law, however, directly addresses living conditions for captive animals.
Although strong state laws have been a useful way to protect exotic animals, some states offer little to no protection for captive wild animals. Some states require licenses, and others have bans on owning and displaying captive animals, but some have few guidelines at all. Some states ban the private possession of large cats, wolves, bears, dangerous reptiles, and most nonhuman primates. Illinois is the only state that prohibits circuses or any specific species from being involved in performances.
Increasingly, local jurisdictions are adopting ordinances that ban or restrict the display of captive wild animals, and some cities prohibit circuses. Local laws are often most effective in governing the private possession of exotic animals.
Animals used by the multi-billion dollar display industry—like those found at SeaWorld and the Miami Seaquarium — include orcas, bottlenose dolphins, and sea-lions. Orcas in the wild exist in tight-knit family groups and can travel over 100 miles in a single day, yet captive orcas are kept in small pools for entertainment in which they cannot dive and must swim circles in shallow tanks. No laws prohibit the display of orcas in captivity, and the Marine Mammal Protection Act (MMPA) allows the capture of wild orcas for the purposes of "education" and entertainment.
Many wild animals may be kept captive in private homes as pets. Common animals kept as pets include lions, tigers, cougars, ocelots, servals, wolves, bears, alligators, snakes, and nonhuman primates. These wild animals are dangerous by nature and cannot be domesticated. A largely unregulated trend is the hybrid breeding of wild cats with house cats, with predictably disastrous consequences.
Every year, thousands of animals enter the captive wild animal trade. These animals are either "surplus" from roadside zoos; captured from their native habitats; sold at auctions, pet stores, or over the Internet; or come from backyard breeders or the black market.
Animal Legal Defense Fund's Lawsuits to Protect Captive Wildlife
We have advocated for numerous captive wild animals, including:
Candy the chimp, who lived her entire life—more than 50 years—as a sideshow attraction.
Lolita the orca, an intelligent and sensitive whale who is confined to the smallest orca tank in North America at the Miami Seaquarium.
Lucky the elephant, who was captured from the wild before her first birthday, and has spent the last 53 years at the San Antonio Zoo, where she has been entirely alone for the past three. The trial in Animal Legal Defense Fund's case to free Lucky will start in October 2017.
Ben the bear, who had been confined to a barren concrete cage at roadside zoo, Jambbas Ranch Tours, for six years. He is now free! He lives at the Performing Animal Welfare Society sanctuary, where he can forage, swim, and build his den under trees.
Ricky the bear, who after spending 16 miserable years in an undersized chain-link and concrete cage at an ice cream shop, is now residing at the Wild Animal Sanctuary.
Tony the tiger, who endured more than a decade of misery at the Tiger Truck Stop in Louisiana.
Bear, a gray wolf, and Baby, a Siberian tiger, who suffered—both physically and psychologically—in their cramped and deprived conditions at Animaland Zoological Park. After being served with a lawsuit, Animaland shut down, and the Animal Legal Defense Fund helped ensure the animals were relocated to appropriate new homes that are capable of meeting their needs.
Big cats, who after Ringling Bros. and Barnum & Bailey Circus's closing, will be sent to a circus in Germany. Animal Legal Defense Fund is objecting to the export.
Endangered animals at Cricket Hollow Zoo, including tigers, lemurs, and lions. Animal Legal Defense Fund liberated two lions, Jonwah and Njjarra, to a sanctuary.
Orcas at SeaWorld, which announced in 2016 that it will phase out its inhumane captive orca program, but will not retire the remaining orcas to sanctuary. Since this announcement, two orcas, Tilikum and Kasatka, have died in SeaWorld's care. Animal Legal Defense Fund, along with a coalition of animal protection, environmental, and marine conservation groups are proposing the Florida Orca Protection Act to end orca captivity in Florida.
Wolves at Fur-Ever Wild, who are first displayed as pups in a petting zoo, then skinned for their fur.
Seventeen wild-caught African elephants imported to be displayed in U.S. zoos.
Wild animals at the King Kong Zoo, which permanently shut down after Animal Legal Defense Fund's lawsuit.
White tigers at Houston's Downtown Aquarium and Landry's Inc. Animal Legal Defense Fund served Landry's with an intent to sue in September 2016, and offered to rehome the tigers to a reputable, accredited sanctuary at no cost.
Suggested Projects, Events, and Actions
NOTE: To help fund your event, your chapter can apply for a student chapter project grant.
Education and Outreach
Organize an information table on campus to raise awareness about issues relating to Captive Wild Animals. We can provide free tabling materials that include newsletters, stickers, brochures (such as our Captive Animals and the Law brochure), and posters to help with your event.
Guest Speakers
Host a speaker, debate, panel, or even a symposium or conference on issues relating to Captive Wild Animals.
Coalition Building
When planning a speaker panel or other event, we encourage you to look for opportunities to team up with other student groups. This will bring a wider audience to your event. For example, on the issues relating to Captive Wild Animals, your chapter might pair up with the Environmental Law Society, the Entertainment Law Society, or the International Law Society.
Letter Writing and Commenting
Chapter members can write letters in response to any newspaper, magazine, or online article involving Captive Wild Animals and make the case against keeping wild animals in captivity.
At the administrative level, you can submit written comments to the U.S. Department of Agriculture, U.S. Fish and Wildlife Service, or other agencies when they are considering changes to rules and regulations. Stay up to date on new rules and comment periods.
Newsletters
Include news relating to Captive Wild Animals or your events on this issue in your chapter newsletters or emails. Check out Animal Legal Defense Fund's press roomfor the latest updates on our cases and campaigns.
Become Active in State Legislation
Organize your members to write letters and make follow-up phone calls regarding pending legislation in your state. Do you know who represents you? Find out, then write letters, send faxes, and phone them about pending local, state, or federal legislation. The best ways to reach your representatives are (in order of effectiveness): meeting them in person (at their office or a town hall meeting), calling, sending a written letter or fax, sending an email, and contacting them on social media. Hold a call-a-thon event at your school to encourage students to call in favor or against a bill. Attend a legislative hearing, trial, or a local Humane Lobby Day to meet legislators and talk about animal law issues. Check city and state government websites to stay up to date on current legislation, or contact us to see if there is pending legislation in your area.
For more tips on how to effectively contact your lawmakers, see this article from For All Animals.
Film Screenings
Screen films related to Captive Wild Animals.
Film Suggestions
Screen Unlocking the Cage for free! This documentary follows the Nonhuman Rights Project in its challenge to break down the legal wall that separates animals from humans. A Nonhuman Rights Project or Animal Legal Defense Fund staff member may even be able to attend and speak at the screening. If your chapter is interested in hosting a screening, please sign up here and email Student Programs Attorney Kelly Levenda for help promoting and organizing the event.
Other films to screen:
Reading List
Books
Legal Articles
Online Articles
Speaker Suggestions
Animal Legal Defense Fund Speakers
Matthew Liebman, Litigation Program Director, Animal Legal Defense Fund.
Christopher Berry, staff attorney, Animal Legal Defense Fund.
Kelsey Eberly, staff attorney, Animal Legal Defense Fund.
Anthony Eliseuson, senior staff attorney, Animal Legal Defense Fund.
Lindsay Larris, Legislative Affairs Program acting director, Animal Legal Defense Fund.
Sarah Hanneken, litigation fellow, Animal Legal Defense Fund.
To request an Animal Legal Defense Fund speaker, please submit the form at the bottom of this page.
Other Speakers
Travis Moore, lobbyist for the Florida Orca Protection Act.
Jo-Anne McArthur, photojournalist, educator, author (check out her new book, Captive).
Carney Anne Nasser, Clinical Assistant Professor & Director of the Animal Welfare Clinic at Michigan State University College of Law.
Delcianna Winders, Harvard Animal Law Fellow and PETA Foundation's Deputy General Counsel for Captive Animal Law Enforcement.
Please note: non-Animal Legal Defense Fund speakers may require honoraria, which we do not fund.
Related
Captured from her wild family as a juvenile, Lolita endured decades of inhumane conditions, spurring protests and numerous legal actions to help her.

Recommendations aim to decrease risk of zoonotic disease spread, animal escapes and attacks, and psychological and physical harm to the animals

Response to Announcement to Return Lolita to Puget Sound