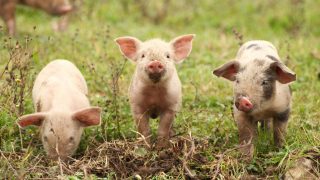 Spotlight: Tara Cooley
Tara Cooley is a 2019 recipient of the Animal Legal Defense Fund's Advancement in Animal Law Scholarship.
Tara Cooley is a 2019 recipient of the Animal Legal Defense Fund's Advancement in Animal Law Scholarship. This award honors students who demonstrate a commitment to the Animal Legal Defense Fund's mission: "to advance the interests and protect the lives of animals through the legal system." Recipients are actively involved in their Animal Legal Defense Fund Student Chapter while in law school and show promise in the field after graduation.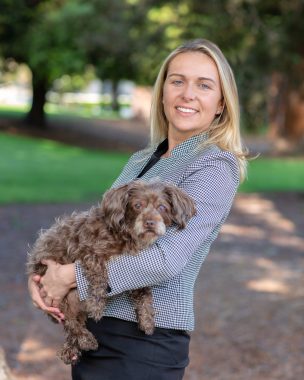 Tara is entering her fourth year of law school and will serve as a board member of the Animal Legal Defense Fund Student Chapter at Golden Gate University. She served on the GGU Law Review and has published an article and a comment on animal-related legal issues. In addition, Tara has incorporated humane education into her classrooms as a teacher and has volunteered for an animal rescue organization in Las Vegas, Nevada.
What Animal Legal Defense Fund Student Chapter activities are you proudest of and why?
I am most proud of my event planning and leadership in the execution of the 2018 California Animal Law Symposium (CALS): Solving Family Issues. My years of experience working with children and families inspired me to center the 2018 symposium around family issues to highlight the intersection between social injustices and animal issues. Guest presenters discussed social issues related to farm factories, emergency response, service animals and serving underserved communities. This event served as an eye-opening experience for attendees including students, attorneys and community members working within and outside of animal advocacy organizations.
Any other noteworthy experience?
I advocated to establish an Animal Law course at GGU, which I enrolled in for the Spring 2019 semester. An Animal Legal Defense Fund litigation attorney co-taught the course which introduced GGU students to various animal law issues including statutes that govern animals, standing issues, causes of action, remedies and personhood for animals.
What are you most excited for in the upcoming academic year?
I am most excited for the 2019 CALS which will be held in October this year and will focus on animals in entertainment. The GGU student chapter has an amazing, dedicated board for the 2019-20 school year. The new board members are excited to attend their first Animal Law Conference and to participate in their first CALS. I look forward to supporting GGU's new board members as they take over the leadership and planning for GGU Animal Legal Defense Fund Student Chapter events.
What are your plans/goals for post-graduation?
I am excited for the opportunity to advocate for animals and children, the individuals within society without a voice. I also look forward to earning my LL.M. in Animal Law and continuing to learn, teach, write, discuss and advocate on behalf of animals.
What is one piece of advice that you'd like to pass on to other Animal Legal Defense Fund Student Chapter leaders?
I encourage you, a new Animal Legal Defense Fund Student Chapter leader, to make numerous partnerships outside of the chapter. A great start is with past chapter leaders who will be excited to hear from you and provide your chapter with valuable advice. In addition, reach out to regional Animal Legal Defense Fund Student Chapters as well as various student organizations within your school to partner for events and brainstorm advocacy ideas. Wear your passion on your sleeve and you will establish valuable partnerships within your community to further your animal advocacy efforts.
Learn more about the other 2019 Advancement in Animal Law Scholarship winners.
Recent News
Companion, farmed, and wild animals have been lost, injured, or killed during fireworks displays

The $25,000 scholarship and paid clerkship is available to rising second-year students at Howard University School of Law, North Carolina Central University School of Law, and Florida A&M College of Law.

The end of the Massachusetts legislative session is approaching quickly. With five major animal protection bills still pending passage in the Senate, your senator needs to hear from you today!
Help animals win the legal protections they so desperately need and deserve, and ensure they have an advocate in courtrooms and legislatures across the country.
Take Action Now