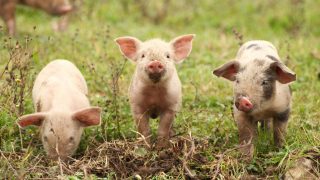 Spotlight: Lauren Barr
Lauren Barr is a 2019 recipient of the Animal Legal Defense Fund's Advancement in Animal Law Scholarship.
Lauren Barr is a 2019 recipient of the Animal Legal Defense Fund's Advancement in Animal Law Scholarship. This award honors students who demonstrate a commitment to the Animal Legal Defense Fund's mission: "to advance the interests and protect the lives of animals through the legal system." Recipients are actively involved in their Animal Legal Defense Fund Student Chapter while in law school and show promise in the field after graduation.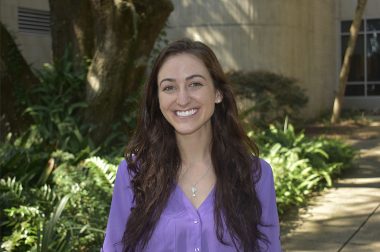 Lauren is entering her third year of law school and will serve as the President of the Animal Legal Defense Fund Student Chapter at the University of Florida Levin School of Law. She was a co-founding member of the UF Law Student Chapter, and previously served as the Chapter's Vice President. She hopes to maintain her connection to the Chapter after graduation.
What Animal Legal Defense Fund Student Chapter activities are you proudest of and why?
I am most proud of our chapter's celebration of the 11th Annual National Justice for Animals Week during February 2019. We tabled in the school courtyard, distributed lots of information to the students regarding companion animal advocacy, farmed animal protection, wildlife conservation and much more! We also sold animal-themed socks and bowties to raise money to fund our chapter and put money aside to donate to local animal shelters and sanctuaries. However, the highlight of our week was definitely inviting Tampa animal law attorney, Jennifer Dietz, to come speak to students about her exciting career with Animal Law Attorneys, LLC. This was easily one of our most attended General Body Meetings and Ms. Dietz was an incredibly engaging, informative speaker. Students were highly inquisitive about her work, and after the meeting concluded, multiple students expressed their gratitude for her speaking appearance as they learned more than they ever have about animal law.
Any other noteworthy experience?
We had an incredibly exciting first year at UF Law. I would say the most noteworthy aspect of our chapter's work so far is that I genuinely believe we've successfully introduced animal law to the UF Law student body, and I believe we've laid an exciting foundation of interest to build upon in future years. We were very cognizant of balancing academic, professional and social events to foster interest from the students. We held a very popular Halloween Animal Onesie social, multiple guided volunteer and touring trips to local farm animal sanctuaries, and hosted speakers from all corners of the animal welfare movement. I couldn't be more proud of the work we've done to demonstrate to our fellow students how they can use their career as a future attorney to protect animals' interests in many diverse ways.
What are you most excited for in the upcoming academic year?
I am most excited about engaging with the new 1L class and working with two newly elected executive board members from the previous 1L class! It is so exciting to meet the students who are already involved in animal advocacy and have become members of our chapter. But it is also a special privilege to introduce new students to animal law and allow them to realize their innate connection to our fellow animal species and their desire to advocate for those who cannot advocate for themselves.
What are your plans/goals for post-graduation?
After graduation (and surviving bar prep, of course) I plan to continue to pursue animal advocacy in my personal life, as well as pursue career opportunities in Florida, the greater United States and internationally. If could be so lucky to secure a position with any one of the wonderful animal welfare organizations, that would be my first priority. This could include the Animal Legal Defense Fund, the Humane Society of the United States, Humane Society International, Compassion in World Farming and many more. However, I'm also very interested in pursuing politics for the sake of animal advocacy. Some of my biggest inspirations in this sector are Al Gore and Cory Booker who use their incredible platforms to consistently advocate for animals and the environment. I'm a strong believer in using your voice for good, and I can't wait to see what I can do to fully maximize my activism for animals as a future attorney.
What is one piece of advice that you'd like to pass on to other Animal Legal Defense Fund Student Chapter leaders?
My best piece of advice is to always keep it fun. Animal advocacy can be so immensely heartbreaking. Dealing with the reality of animal cruelty that is so prevalent in our society can be very emotionally taxing. However, I believe a lot of the success of our chapter's debate year came from the executive board's creativity in coming up with fun ways to engage the UF Law community and always ground our efforts in what we all are there for – the animals we love so much. We were committed to ensuring that no matter the topic of discussion or activity that we were involved in, we always made it fun. We wanted students to be excited to attend our meetings and events, and look forward to seeing us table in the courtyard. So far, we've done a great done of that, and I believe that's the key to the success of any student organization. If the executive board members are having fun – the chapter members will enjoy themselves as well and keep coming back to learn and support the cause.
Learn more about the other 2019 Advancement in Animal Law Scholarship winners.
Recent News
Companion, farmed, and wild animals have been lost, injured, or killed during fireworks displays

The $25,000 scholarship and paid clerkship is available to rising second-year students at Howard University School of Law, North Carolina Central University School of Law, and Florida A&M College of Law.

The end of the Massachusetts legislative session is approaching quickly. With five major animal protection bills still pending passage in the Senate, your senator needs to hear from you today!
Help animals win the legal protections they so desperately need and deserve, and ensure they have an advocate in courtrooms and legislatures across the country.
Take Action Now