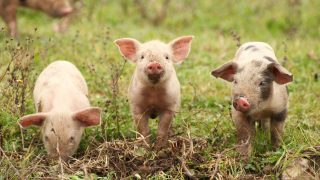 Spotlight: Alicia Slate
Alicia Slate is a 2019 recipient of the Animal Legal Defense Fund's Advancement in Animal Law Scholarship.
Alicia Slate is a 2019 recipient of the Animal Legal Defense Fund's Advancement in Animal Law Scholarship. This award honors students who demonstrate a commitment to the Animal Legal Defense Fund's mission: "to advance the interests and protect the lives of animals through the legal system." Recipients are actively involved in their Animal Legal Defense Fund Student Chapter while in law school and show promise in the field after graduation.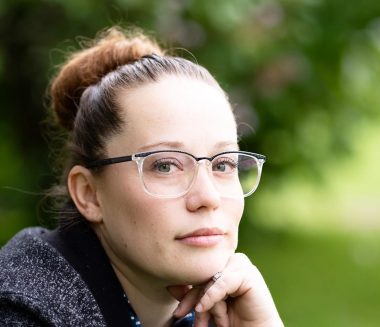 Alicia is entering her third year at Syracuse University College of Law, and has been elected President of her school's Animal Legal Defense Fund Student Chapter for the third consecutive year. She volunteers as a Volunteer Advocate Lawyer for Animal Abuse Court with the Onondaga County Bar Association in New York, and currently serves in the Florida National Guard.
What Animal Legal Defense Fund Student Chapter activities are you proudest of and why?
When I started at Syracuse University College of Law, I set out to create a Syracuse Animal Legal Defense Fund Student Chapter. By the end of October, with the assistance of a motivated staff of animal lovers like myself, we were able to gavel in our first general body assembly and recruited an additional 22 members. While navigating my 1L year, our chapter held its first annual "Spirit Week" promoting National Justice for Animals Week. We also competed and won $1000 for our chapter in a local contest for the best organization, brought vegan options to our schools' café, provided therapy dogs to students during exam week, and held a film screening with a panel discussion on animals in entertainment law. Establishing the chapter and generating awareness for animal welfare was the first of many proud accomplishments for my chapter.
This year we've continued to have remarkable success. Our first task this year came in the wake of Hurricane Florence. I help to set up a donation collection point for supplies for the Greenville Humane Society in South Carolina who took in dozens of animals displaced by the storm. We successfully collected over $400 worth of goods to include food, bowls, blankets, and cleaning supplies and shipped it to them.
Second, along with four other E-Board members, I was able to attend the annual law conference in Chicago, a first-time occurrence for our chapter. I was inspired to bring the lecture topics back to our chapter. In only our second year we have doubled our membership numbers, hosted multiple fundraisers, and organized a petition along with a forum with the Syracuse Law School Dean to address an immediate ban on dogs at our law school. We continued to provide therapy dogs to our students during finals, and we organized a special therapy dog kissing-booth fundraiser for Valentine's day. This two-hour event brought in $100 in donations for 'Cuse Pit Crew's Romeo Fund, which covers pull fees rescues are required to pay to shelters to remove the dogs, often in danger of being euthanized.
During our second annual spirit week, we raised more money than any other organization at Syracuse College of Law since I enrolled. We continued incorporated popular events from the previous year and chose a local mascot to partner with Justice, her name is Beauty, and she is a survivor of animal abuse. We organized a lunch panel with Central New York Animal Cruelty Task Force members, hosted raffles, offered a vegan hot chocolate bar with premium toppings, hosted a BBQ, and held a fundraiser with our local donut shop Glazed and Confused who created a special free dog-friendly and vegan donuts. At the end of the week, I proudly presented a check for $1,460 to the Volunteer Advocate Lawyers for Animal Abuse Court (VALAC) TO help pay for Beauty's medical bills, totaling over $7,000
Most recently, I have established a pro bono opportunity for our members working directly with the New York State Bar Association Committee on Animals in the law. Members will draft memorandums in support of bills furthering animal welfare in New York on behalf of the committee. Lastly, I had the pleasure of coordinating the presentation of Bella's Bill at Syracuse University. I was able to work with personnel at the Animal Legal Defense Fund and 'Cuse Pit Crew to host the discussion, provide vegan refreshments, and promote the event in our community. I was also able to work with the university's IT department to have the event broadcasted live for those who were unable to attend in person. We had an impressive turnout of 37 people from local animal rescue organizations, concerned citizens, and attorneys.
Syracuse's chapter accomplishments are plenty to be proud of. However, at the end of my 2L year, I was presented with the Syracuse Organization of the Year award for our chapter. This award is incredibly special to me as it was decided on by the students. I am incredibly proud to see how far this chapter has come from nonexistence to chapter of the year and where it will go in the future.
Any other noteworthy experience?
Beyond my involvement in the student chapter, I have volunteered as a student advocate for abused animals in Syracuse. In only two years, 5 of the six cases of abuse cases I have been assigned have not only concluded with a conviction of the animal abuser, but also a successful adoption of the dog who had been subjected to abuse. I have also had the opportunity to draft legislation and lobby for its passing as a volunteer with 'Cuse Pit Crew's political action committee. Most notably, I assisted in the drafting of Adrian's Law — a local ordinance criminalizing leaving animals tethered outside in extreme temperatures — which has since passed in the city of Syracuse and other surrounding areas. I was even allowed to speak out in support of the bill before my county legislatures.
What are you most excited for in the upcoming academic year?
For the upcoming year, I am most excited for our National Justice for Animals Week. The last two years have been wildly successful, and I am eager to see what my team produces this year as we continue to raise the bar for our chapter and other organizations at Syracuse University. Secondly, I am excited about a drafting workshop we will be hosting to teach students how to draft bills and lobby in front of legislatures to effect change in their communities. Additionally, I look forward to mentoring the incoming E-Board and provide them the tools they need to sustain our chapter for many years to come.
What are your plans/goals for post-graduation?
With limited opportunities to work full time in animal law, I intend to advance the protection for animals through pro bono work and volunteering. First, I will remain an advocate with the Volunteer Advocate Lawyer for Animal Abuse Court (VALAC), a unique program in Syracuse, NY, where attorneys volunteer to represent the animals' interest in court. Wherever after that, I end up, I would like to bring a similar program to that county and others. I will continue to work with my local rescues and advocacy groups to influence change in laws through legislative drafting, lobbying, filing amicus briefs, litigating cases, and assisting prosecutors with animal cruelty cases. I hope to work for the local district attorney's office and take the lead in all animal cruelty cases to ensure justice is done. Further, I will find opportunities to educate my community on animal welfare issues, and the resources available to them to prevent cruelty.
Further, in the area, I live in New York, puppy mills are a severe epidemic mostly unaddressed because of poorly written laws and cultural differences. I am looking forward to building contacts and learning how to best address this problem legally. This initiative will require not only a partnership with local organizations but also educating the public about puppy mills and the repercussions.
Also, I want to change how animals are addressed within the insurance industry. The movement away from animals as property to "nonhumans" suggest that we also need to modify how insurance applies to our animals. The restrictions placed on the coverage available to owners and the value of life limitations by auto insurance carriers are not consistent with societal trends.
Lastly, as a Judge Advocate General (JAG) attorney in the Army National Guard, I would like to improve the protection and treatment of military working dogs. I am currently exploring all areas of law to learn where my fields of interests overlap and where I can be most useful. I understand my goals are ambitious, but I believe I have the passion for being successful and bringing about change.
What is one piece of advice that you'd like to pass on to other Animal Legal Defense Fund Student Chapter leaders?
I would tell other Animal Legal Defense Fund student chapter leaders to make it your own. Each semester I give my members a survey which includes a question about their interests. Sometimes members are particularly interested in Factory Farming, while this last year, most were passionate about strengthening local cruelty laws and eliminating cosmetic testing on animals. I used this information to develop the year's events with the interests of our members at its core. I think this is the best way to maximize interest and in turn, have the greatest impact. When we are passionate about our work, we all work harder at it.
I would also encourage leaders to be aware of the emotional toll working in Animal Law can have. Sadly, much of what we work on in this field is unpleasant and tragic, leading many to get discouraged before they have a chance to make an impact. To strike this balance provide your members with opportunities to see and get involved in the positive aspects of the field, such as assisting in adoptions, therapy dogs, building habitats, etc.
Lastly, be inclusive of all ideas — not everyone who cares about animal welfare approach a problem in an identical way. Educating the students on topics such as Factory Farming for which they may be unfamiliar encourages them to make more deliberate and informed choices. These small changes cumulatively have a great impact.
Learn more about the other 2019 Advancement in Animal Law Scholarship winners.
Recent News
Companion, farmed, and wild animals have been lost, injured, or killed during fireworks displays

The $25,000 scholarship and paid clerkship is available to rising second-year students at Howard University School of Law, North Carolina Central University School of Law, and Florida A&M College of Law.

The end of the Massachusetts legislative session is approaching quickly. With five major animal protection bills still pending passage in the Senate, your senator needs to hear from you today!