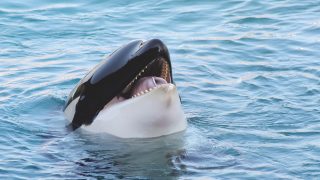 Speak Out for Captive Orcas at Florida Fish and Wildlife Public Meeting
THIS ACTION IS CLOSED
THIS ACTION IS CLOSED
Tell the Florida Fish and Wildlife Conservation Commission that you care about protecting captive orcas!
The commission is hosting public meetings to encourage input on captive wildlife regulations in Florida. These meetings will cover the following topics: elephant rides, administrative/applications, and public contact/unconfined captive wildlife. Learn more.
If you live in or near one of these three locations, please attend the meeting and speak in support of protections for captive orcas during the public contact/unconfined captive wildlife portion of the meeting (see suggested talking points below). An Animal Legal Defense Fund staff member will also be speaking at the Tampa meeting.
Meeting Times/Locations
Palm Beach Gardens
Monday, April 8, 2019
6:00 PM – 9:00 PM
Embassy Suites
4350 PGA Boulevard
Palm Beach Gardens, FL 33410
Tampa
Tuesday, April 9, 2019
6:00 PM – 9:00 PM
Embassy Suites
10220 Palm River Road
Tampa, FL 33619
Ocala
Wednesday, April 10, 2019
6:00 PM – 9:00 PM
Hilton
3600 Southwest 36th Avenue
Ocala, FL 34474
Recommended Talking Points
Find additional talking points here under "Fast Facts."
My name is ____, and I'm here today to speak about captive orcas held in marine amusement parks in Florida.
All orcas suffer in captivity. For an orca who can swim up to 140 miles a day and dive hundreds of feet deep, life in captivity is extreme confinement.
At best, captive orcas survive only as well as endangered and threatened wild orcas living in degraded habitat. Their survival to age milestones, including sexual maturity and menopause, is poor.
Infections are the most common cause of death for captive orcas, likely resulting from immunosuppression caused by chronic stress and possibly exacerbated by poor dental health.
I urge the state to protect captive orcas by making it illegal to:

Hold orcas in captivity for any purpose (grandfathering those already in captivity)
Breed captive orcas; and
Display orcas for entertainment purposes.
Read more about orca captivity.
Please contact socialmedia@aldf.org if you have any questions.
THIS ACTION IS CLOSED
Related
This year's Florida legislative session promises to be one of the busiest yet for animals. The Animal Legal Defense Fund is in the halls of the legislature every day – advocating for animals who would otherwise not have a voice.

The Animal Legal Defense Fund grieves the death of Kayla, a 30-year-old orca whose death SeaWorld announced on Monday. And we renew our call for Florida and other states with captive orcas to pass and enact stronger orca protection laws.

Two years ago, SeaWorld promised that this current generation of captive orcas would be the last.
Help animals win the legal protections they so desperately need and deserve, and ensure they have an advocate in courtrooms and legislatures across the country.
Take Action Now