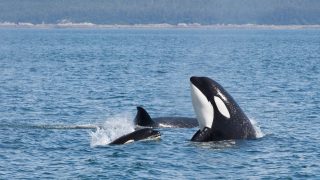 Statement on Lolita
Response to Announcement to Return Lolita to Puget Sound
Lolita the orca is now more than 50 years old following her capture from Puget Sound in 1970 and has been held captive at the Miami Seaquarium ever since. To make matters even worse, Lolita has been deprived of the company of any orcas since 1980, when her last companion, Hugo, rammed his own head against the tank's wall until he died. The terrible cruelty of holding orcas in captivity is clear from research and advocacy over the years showing behavioral markers of extreme stress, physical injury, violence, and lifespans decades shorter than those of wild orcas.
Taking what we know about orcas and Lolita's personal experience, not only should she be the last orca to be held captive at the Seaquarium — no orcas should be held in captivity. A tank will never match the vastness of the ocean where orcas should be free to live out their lives. While we defer to orca experts on whether this move is a safe decision for Lolita, we will continue to advocate for orca protections that ban their captivity and captive breeding and litigate to uphold the Animal Welfare Act on behalf of captive animals.
Join the Animal Legal Defense Fund's email list to stay up to date on lawsuits, legislation, and regulations affecting animals.
Sign Up Now
Related
Captured from her wild family as a juvenile, Lolita endured decades of inhumane conditions, spurring protests and numerous legal actions to help her.

This year's Florida legislative session promises to be one of the busiest yet for animals. The Animal Legal Defense Fund is in the halls of the legislature every day – advocating for animals who would otherwise not have a voice.

The Animal Legal Defense Fund grieves the death of Kayla, a 30-year-old orca whose death SeaWorld announced on Monday. And we renew our call for Florida and other states with captive orcas to pass and enact stronger orca protection laws.