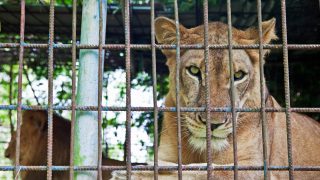 Lawsuit Seeks to Force USDA to Recognize Its Authority to Take Possession of Animals When Agency Revokes Licenses
The lawsuit asserts the agency must be able to remove animals if the USDA has deemed the facility unable to provide minimum standards of care set out by the Animal Welfare Act.
Contact: media@aldf.org
WASHINGTON, D.C. — Today, the Animal Legal Defense Fund filed a lawsuit challenging the U.S. Department of Agriculture's (USDA) decision to deny a petition for rulemaking that urged the agency's Animal and Plant Health Inspection Service (APHIS) to revise its limited animal confiscation regulations and establish procedures for relocating animals from facilities that do not comply with the Animal Welfare Act (AWA). The petition seeks to close a fatal gap in the USDA's AWA regulations, in which the USDA — contrary to its statutory duty to "insure that animals…are provided humane care and treatment" — has prevented itself from relocating animals from facilities whose conditions are so dire that the agency has sought to revoke or terminate their AWA licenses. A policy which has earned the moniker: "revoke and run."
The USDA often issues damning inspection reports against facilities that chronically flout AWA regulations but refuses to remove and relocate the animals from the facilities, even in situations when animals are at great risk of increased suffering and even death. Some examples include:
Cricket Hollow Zoo: This Iowa roadside zoo kept hundreds of animals in conditions so inhumane that the USDA initiated an enforcement action to fine the facility and revoke its AWA license. Throughout the proceedings the agency refused to seek animal relocation as a remedy, essentially committing to leave the animals in decrepit and unlawful conditions at the facility without any continuing USDA oversight. A USDA administrative law judge revoked Cricket Hollow Zoo's AWA license in 2017 but did not require the animals to be moved to a sanctuary — in fact, the USDA stated that the administrative law judge could not order relocation. The Animal Legal Defense Fund, refusing to abandon the animals, filed an Iowa state court lawsuit, resulting in Cricket Hollow Zoo being found to be a public nuisance by the court that violated state cruelty laws. The court ordered the animals' removal from the roadside zoo. Starting in December 2019, pursuant to the Iowa state court's order, the Animal Legal Defense Fund removed hundreds of animals from Cricket Hollow Zoo and transferred them to sanctuaries across the United States. However, before the scheduled rescue date, the zoo owners and other wildlife traffickers killed, hid, removed, or sold almost 100 animals. Many of these animals are still missing and others are known but unreachable. For instance, a kinkajou and cockatiel were sold online. Some animals, including two brown bears, a coyote, and a fox, died during transport while being trafficked away from the roadside zoo. Had the agency pursued confiscation of these animals when it initiated enforcement or ordered license revocation, these animals may have been saved from illicit wildlife trade and death.
Bob Sawmiller: Many animals have died over the years while in the custody of this notorious wildlife trafficker. This includes one incident in which a USDA inspector observed a cougar to be motionless and in apparent distress. Rather than confiscate the animal, the inspector directed Sawmiller to have the animal seen by a veterinarian within 24 hours; but according to a USDA inspection report Sawmiller failed to do so and the cougar succumbed from illness without pain relief or supportive care. Then, in 2020, despite Sawmiller's chronic failure to comply with the AWA and a recent inspection documenting 19 non-compliances, USDA approved Sawmiller's AWA renewal application. The Animal Legal Defense Fund challenged that approval in Animal Legal Defense Fund v. Vilsack. The USDA swiftly changed course, initiating an administrative complaint against Sawmiller on July 8, 2021, which resulted in the revocation of his license on April 6, 2022. Despite all of this, the agency left animals in Sawmiller's possession.
Lolita the Orca: The USDA has failed to rescue an orca named Lolita from captivity at the Miami Seaquarium. Lolita has been suffering at the facility for half a century in a tiny tank with no shade, and for 40 of those years with no interaction with other orcas. Faced with USDA's unwillingness to help Lolita over the last decade, the Animal Legal Defense Fund and others have filed numerous suits against USDA and the Seaquarium in attempts to rescue Lolita. In March 2022, Lolita was removed from the facility's exhibition license — yet remains at the facility, in the same tank — following a scathing inspection report that found Lolita suffering on numerous accounts. Regardless, USDA did not confiscate or otherwise arrange for the humane disposition of Lolita, and she continues to languish at the Seaquarium.
"If an animal exhibitor is unable to meet minimal legal expectations when they are subject to inspections, expecting for conditions to improve without any oversight or the financial gain previously generated by the license is asinine," says Animal Legal Defense Fund Executive Director Stephen Wells. "It is as if to say 'you have treated these animal so poorly, your punishment is: the animals will further suffer here and die.'"
In March 2022, the Animal Legal Defense Fund's petition for rulemaking was denied by the USDA on the falsehood that it does not have statutory authority to expand its confiscation regulations. The USDA wrongly contends the agency is prohibited from removing and relocating animals — even if they are at direct risk of suffering — during and after agency actions to revoke or terminate facilities' AWA licenses. This interpretation is contrary to Congress' purpose of ensuring humane animal care and treatment through the AWA.
Join the Animal Legal Defense Fund's email list to stay up to date on lawsuits, legislation, and regulations affecting animals.
Sign Up Now
Related
The gift of more than $1 million will fund the program over the next four years

This action is for U.S. residents only.

The victory follows the passage of a factory farming law and efforts to curtail the construction of new mega dairies in the state