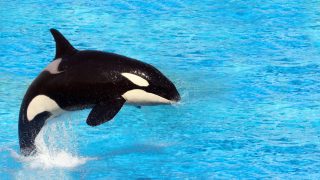 Lolita's Safety and Well-Being Leads Advocates to Appeal to Court for Her Protection
On behalf of the Animal Legal Defense Fund, PETA, and Orca Network, animal law attorneys will be in court today to advocate for Lolita, a lonely orca trapped in the smallest orca tank in North America, at the infamous Miami Seaquarium. The Seaquarium has blatantly violated the federal Animal Welfare Act, which governs protections for Lolita. Yet its license has been rubber-stamped repeatedly despite the illegal and wretched conditions in which Lolita is held. She is trapped in the equivalent of a bathtub, year after year, with no orca companion or shelter from the sun and other weather conditions.
Today, the Eleventh Circuit Court of Appeals in Miami will hear oral argument in the groups' lawsuit against the U.S. Department of Agriculture (USDA) for renewing the Seaquarium's license despite knowing that the facility is perpetually in violation of at least three regulations of the federal Animal Welfare Act. The groups' lawsuit against the USDA was dismissed in March 2014. An appeal was filed last June.
The law is certainly on Lolita's side. She is not only protected by the Animal Welfare Act, but also the Endangered Species Act. In February 2015, advocates cheered when the National Marine Fisheries Service, as a result of a petition by ALDF, PETA, and Orca Network, granted Lolita the same protections under the Endangered Species Act that protect her family in the wild. Yet she is still swimming endless circles in the pathetic conditions at the Seaquarium.
Despite the legal protection Lolita is entitled to under the Animal Welfare Act, however, the USDA has failed to enforce the law.
What does this mean for Lolita? It means our government is allowing the Seaquarium to abuse an endangered species, by rubber-stamping the park's license no matter what conditions Lolita suffers, or how many times the park breaks the law.
Lolita was originally kidnapped from her family in the horrific 1970 Penn Cove roundup in Puget Sound. In the wild, orcas spend their entire lives with their mothers. Lolita's mother still thrives in a seaside sanctuary off the coast of Washington, waiting for her daughter to come home. Instead, the Miami Seaquarium forces her to entertain crowds in a shallow and barren tank that doesn't come anywhere close to the minimum requirements of the Animal Welfare Act. She has been exploited in these inhumane conditions for 45 years.
It is well past time for Lolita's suffering to come to an end, and the Animal Legal Defense Fund will continue to speak up for Lolita.
Related
Captured from her wild family as a juvenile, Lolita endured decades of inhumane conditions, spurring protests and numerous legal actions to help her.

Proposed rule would maintain an unnecessarily complicated and confusing process for children to get access to plant-based milk

Recommendations aim to decrease risk of zoonotic disease spread, animal escapes and attacks, and psychological and physical harm to the animals