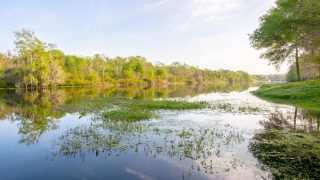 'Right to Clean Water' Initiative Endorsed by Animal Legal Defense Fund
Charter Question 1 would recognize county waters have the right to be free from pollution
Contact: media@aldf.org
Orlando, Fla. — Today the Animal Legal Defense Fund, the nation's preeminent legal advocacy organization for animals, announced its endorsement of Orange County's "Right to Clean Water" initiative, Charter Question 1.
If passed by Orange County voters in November, the "Right to Clean Water" initiative would declare county waterways have a right to exist, flow, be protected against pollution, and maintain a healthy ecosystem. It would also permit county residents to sue on behalf of polluted waterways and mandate that waterways be restored after pollution occurs.
"This landmark 'rights of nature' initiative recognizes the Wekiva River, the Econlockhatchee River, and all waterways in the county have the right to be healthy," says Animal Legal Defense Fund Executive Director Stephen Wells. "For too long, industries, including animal agriculture and land development, have endangered the state's human and non-human inhabitants by polluting public waterways. Current regulatory and enforcement mechanisms have failed to protect our clean water. This initiative will give the public an enforceable right to protect their waterways from polluters as well as the humans and wild animals who depend on clean water for their survival."
Water pollution is a serious problem in Florida. Over half of the state's waterways have been declared "impaired," including many in Orange County. Charter Question 1 safeguards the county's waters from a political system that too often favors corporate interests over the environment by empowering residents to take legal action to enforce the law.
Increasing levels of nitrates in Orange County's waters are devastating the Wekiva River and Econlockhatchee River ecosystems, fueling harmful algal blooms that kill fish and other wild animals as well as disrupt reproduction and plant growth. These nitrates and other contaminants are also endangering vulnerable residents, such as pregnant women and the elderly, who are at greater risk of becoming ill from drinking contaminants.
The organization previously endorsed the 2018 statewide ballot initiative, Amendment 13, which bans greyhound racing in the state by the end of 2020.
Join the Animal Legal Defense Fund's email list to stay up to date on lawsuits, legislation, and regulations affecting animals.
Sign Up Now
Related
These charges leave no doubt that the mistreatment of an aquatic animal can be taken seriously — while also raising important questions concerning these creatures' treatment under the law.

World Oceans Day, June 8th, is a global day to honor, help protect, and conserve the world's oceans.

Marylanders should urge their legislators cosponsor bills HB 211 and SB 268 and ban cownose ray killing contests in Maryland once and for all.