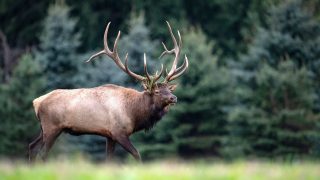 Rhode Island: Help ban cruel canned hunts
This action is for Rhode Island residents only.
Legislation is pending in Rhode Island to finally ban canned hunting. Animals on canned hunts are bred for the bullet, then stocked and shot within fenced enclosures for guaranteed trophies.
Over half of the states in the U.S. have already enacted full or partial bans on canned hunts. There is no sport in this cruel pay-to-play killing.
Please urge your state legislators to support legislation to prohibit the hunting of captive mammals as well as the import of mammals for captive hunting. An Act Relating to Fish And Wildlife – Artificial Propagation of Game (HB 7308)/SB 2691) was filed by Representatives O'Brien, Vella-Wilkinson, McEntee, Amore, and Morin and by Senator Archambault. Read more.
You can send an email and/or call your state legislators using the toggle buttons noted with the icons below. Phone calls have much more impact than emails. If you're able to make a phone call, please do so.
Join the Animal Legal Defense Fund's email list to stay up to date on lawsuits, legislation, and regulations affecting animals.
Sign Up Now
Related
The Animal Legal Defense Fund, the nation's preeminent legal advocacy organization for animals, is offering a $5,000 reward for information leading to the arrest and conviction of the person or people responsible for illegally trapping a coyote in Essex County, Massachusetts.

Animal Legal Defense Fund sues Foster Farms for violating California law by using cruel, water-intensive slaughter method during megadrought

A coalition, led by the Animal Legal Defense Fund, filed an emergency petition with the USDA to prevent COVID-19 relief funds, resources, and any other forms of support from facilitating or compensating for the costs of ventilation shutdown or water-based foam "depopulation" — the mass killing of animals on factory farms.