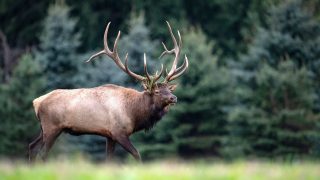 Rhode Island: Help ban cruel canned hunts
This action is for Rhode Island residents only.
Legislation is pending in Rhode Island to finally ban canned hunting. Animals on canned hunts are bred for the bullet, then stocked and shot within fenced enclosures for guaranteed trophies.
Over half of the states in the U.S. have already enacted full or partial bans on canned hunts. There is no sport in this cruel pay-to-play killing.
Please urge your state legislators to support An Act Relating to Fish And Wildlife – Artificial Propagation of Game (HB 7308), filed by Representatives O'Brien, Vella-Wilkinson, McEntee, Amore, and Morin, to prohibit the hunting of captive mammals as well as the import of mammals for captive hunting.
You can send an email and/or call your state legislators using the toggle buttons noted with the icons below. Phone calls have much more impact than emails. If you're able to make a phone call, please do so.
Join the Animal Legal Defense Fund's email list to stay up to date on lawsuits, legislation, and regulations affecting animals.
Sign Up Now
Related
Animal Legal Defense Fund and American Wild Horse Campaign continue work to ensure wild horses' safety

Three baboons and two macaques removed from Cricket Hollow Zoo are transferred to primate sanctuary, following Animal Legal Defense Fund lawsuit

We've declared it "Stay At Home With Your Dog Day!" (#StayAtHomeWithYourDogDay) and invite you to join us for a friendly photo competition and share photos of your "Office Mutt-Mates" and "Cat Coworkers" working hard (and sometimes hardly working!).