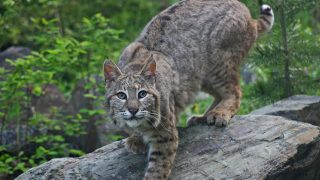 Protect California's Wildlife, AB 1788, the California Ecosystems Protection Act
This action is for California residents only.
Californians – We need your help getting an important bill, AB 1788, the California Ecosystems Protection Act, over the next hurdle – the Water, Parks, and Wildlife Committee. Last week, the bill passed its first committee, but your voice is needed to make this bill law.
If your assemblymember sits on this committee, they need to hear from you before April 9th!
Make a brief phone call today asking them to support AB 1788 and protect wild animals like bobcats, bald eagles, and the endangered Pacific fisher. If your assemblymember does not sit on the committee, please call the committee chair, Asm. Eduardo Garcia.
Sample Message: I am your constituent, and I care about protecting California's wildlife. Please support AB 1788, the California Ecosystems Protection Act.
This bill would ban second generation anticoagulant rodenticides (SGARs) throughout the state, except for agricultural use or by special permit. It would also ban the use of less potent, though still very dangerous, first generation anticoagulant rodenticides (FGARs) on state-owned lands.
Rodenticides (rat poisons) designed to kill rodents are poisoning California's native wildlife. Rodenticides are consumed by rats, who in turn are consumed by other wildlife, resulting in secondary poisoning and contamination of the food chain. Rodenticide poisoning is widespread.
A recent analysis of 11 studies found that more than 85% of California mountain lions, bobcats, and Pacific fishers have been exposed to these dangerous poisons.
If you're not sure who your assemblymember is, find your representatives here.
Members of Water, Parks, and Wildlife Committee
| | | |
| --- | --- | --- |
| Eduardo Garcia (Chair) | Riverside/El Centro | 916-319-2056 |
| James Gallagher (Vice Chair) | Chico/Mendocino County | 916-319-2003 |
| Frank Bigelow | Madera, Placerville, Sutter Creek, Yosemite | 916-319-2005 |
| Steven S. Choi, Ph.D. | Irvine, Tustin, Orange | 916-319-2068 |
| Kansen Chu | Milpitas, Fremont, San Jose, Santa Clara | 916-319-2025 |
| Brian Dahle | Redding, Downie, Truckee, Nevada City | 916-319-2001 |
| Laura Friedman | Burbank, Glendale, Silver Lake | 916-319-2043 |
| Cristina Garcia | Bell Gardens, Downey | 916-319-2058 |
| Todd Gloria | Coronado, Del Mar, coastal San Diego | 916-319-2078 |
| Ash Kalra | Downtown, East San Jose | 916-319-2027 |
| Marc Levine | San Rafael, Petaluma, Santa Rosa | 916-319-2010 |
| Blanca E. Rubio | Azusa, Baldwin Park, San Gabriel Valley | 916-319-2048 |
| Rudy Salas, Jr. | Hartford, Bakersfield, Kettleman City | 916-319-2032 |
| Jim Wood | Mendocino, Humboldt, coastal Sonoma | 916-319-2002 |
If enacted, California would become the first state to prohibit these cruel products. Help us make history and urge your assemblymember to support AB 1788.
Join the Animal Legal Defense Fund's email list to stay up to date on lawsuits, legislation, and regulations affecting animals.
Sign Up Now
Related
Animal Legal Defense Fund initiated a lawsuit against Deer Haven Mini Zoo for violations of Endangered Species Act and state animal cruelty laws

The notice letter offers to assist with the relocation of the animals to sanctuaries but cautions that the Animal Legal Defense Fund will file the lawsuit if illegal conditions persist.

Superior Court Judge Lydia Villarreal found in favor of a coalition of wildlife protection groups, including the Animal Legal Defense Fund, in its challenge to Monterey County, California's contract renewal with the U.S. Department of Agriculture's Wildlife Services.