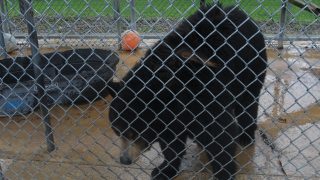 No More Concrete Cage – Lawsuit Wins Permanent Sanctuary for Ricky the Bear
Lawsuit Convinces Shop Owner to Finally Release Ricky the Bear to Wild Animal Sanctuary
Contact: media@aldf.org
York, PA — A female black bear named Ricky will finally feel grass under her feet, after a settlement in the national nonprofit Animal Legal Defense Fund's lawsuit led to her release to the Colorado-based Wild Animal Sanctuary. The lawsuit was filed by the Philadelphia office of the law firm Baker-Hostetler in December 2014 on behalf of concerned Pennsylvania residents against Jim Mack's Ice Cream, where Ricky had lived for 16 years in a small, concrete cage, eating a mix of corn and dog food funneled onto the floor of her enclosure.
Today, under the supervision of Dr. Mary Denver, DVM, former head veterinarian at the Maryland Zoo and former president of the American Association of Zoo Veterinarians, Ricky is on her way to her new home at the sanctuary.
Watch Ricky's Rescue video:
Ricky's suffering in her tiny enclosure was confirmed by veterinary experts, who warned of a "slow and torturous decline in physical and mental health" if the bear remained in these conditions. National attention was drawn to her plight, and tens of thousands signed petitions requesting her release, including comedian Ricky Gervais. Local residents had asked for Ricky's release for years.
Ricky's new habitat at the Wild Animal Sanctuary, located in Keenesburg, Colorado, features 15 acres of rolling grassland at the 720 acre sanctuary. Bears require large, environmentally complex spaces in which to engage in their natural behaviors, such as bathing, exploring, foraging, and denning—and that's what Ricky's new life holds in store for her at the sanctuary.
Special care is given to new residents like Ricky, who will be slowly transitioned into her new life in a large acreage sanctuary through custom enrichment and a climate-controlled rehabilitation center. Ricky's future now includes plenty of space to be undisturbed by humans and traffic. She will in time be able to run and play with other bears.
The lawsuit, filed by Carl Hittinger and Brian Saunders of BakerHostetler and attorney Brian LaManna, accused James H. McDaniel, Jr. of violating state regulations that require the humane care and treatment of wild animals and of posing a threat to public safety by holding a bear at the Lincoln Highway-based store.
"BakerHostetler was pleased to bring this case on behalf of our local clients and ALDF to right this animal abuse and release Ricky to a reputable, independently-certified sanctuary where she belongs," said Carl Hittinger, a partner at BakerHostetler. In the settlement, Mr. McDaniel agreed to release Ricky, and the plaintiffs agreed to drop the lawsuit as a result.
"Our legal team is thrilled that Mr. McDaniel has made the ethical choice to send Ricky to the experienced professionals at the Wild Animal Sanctuary," said Matthew Liebman, senior attorney for ALDF. "We were prepared to litigate until Ricky was free, but this decision will save everyone time and money and Ricky won't have to wait any longer to feel the earth beneath her paws."
Photos and video of Ricky in her new home will be available by request on Tuesday.
More Information
Related
Today the Delaware County district court granted a motion for contempt filed by the Animal Legal Defense Fund against Cricket Hollow Zoo and its owners, Pamela and Thomas Sellner, seeking the whereabouts of more than 100 animals who "disappeared" prior to a court-ordered rescue.

The U.S. Department of Agriculture (USDA) has cancelled notorious wildlife exhibitor and trafficker Robert Sawmiller's license to engage in exhibition, breeding and selling activities regulated by the Animal Welfare Act (AWA) following the Animal Legal Defense Fund's lawsuit against the agency for initially renewing the license. 

The court's decision ensures Special Memories Zoo is permanently closed following Animal Legal Defense Fund lawsuit