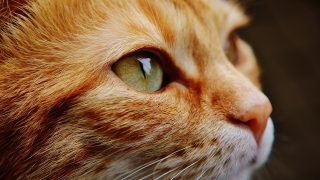 New York Distinguishes Animals from Other Property in Eviction Cases
By Nicole Pallotta, Academic Outreach Manager
"Since animals are considered property under the law, there is no distinction between how a couch and an animal is treated. Unlike couches, animals are living sentient beings, and need food, water, air and affection to survive. They cannot be treated like other property. This bill would ensure that the safety and well-being of an animal is not compromised when a tenant is evicted." – New York Senate Bill S7388B, Sponsor Memo
Governor Andrew Cuomo signed the "No Pet Left Behind" law in August 2018. The new legislation requires officers enacting an eviction warrant to check the premises for companion animals and to coordinate their safe removal.
This law, which is an important acknowledgement that animals' legal status as property presents a serious impediment to their well-being, will help ensure companion animals in New York are not abandoned in rental properties when their owners are evicted.
Before this law, evicted tenants could not retrieve anything from the property until an inventory was completed and those items were stored, with no distinction between furniture and animals.
This bill was introduced after an evicted couple returned home to find themselves locked out of their residence with their dog inside. According to the sponsor's memo:
"The innocent animal was locked inside a small cage in the apartment for two days until the caregiver won a court order to enter the apartment and rescue his dog. The dog, which had been rescued from an abusive home, had no food, only a small water bowl and no place to relieve herself."
Assemblymember Linda B. Rosenthal said in a press release, "the law may treat animals like property, but cats are not like couches and dogs are not like dining tables. Animals are sentient beings, members of the family who rely on human care for survival. Plans must be made for their care in the event of an eviction, and this law will ensure that they are."
Actions
Help animals win the legal protections they so desperately need and deserve, and ensure they have an advocate in courtrooms and legislatures across the country.

Take Action Now

Puppy mill operators maximize their profits by producing large numbers of puppies as quickly as possible. As a result, unsanitary conditions, disease, and neglect are rampant. Sign our pledge to boycott puppy mills. Together we can end cruel puppy mills.

Sign Petition

Puerto Rico's only zoo is not a safe place for animals. Please sign the petition below to help close the zoo and find these animals new homes.

Sign Petition
Related
Ask your state legislators to support a bill that would prohibit people convicted of animal abuse from possessing animals for at least five years after their release from custody.

Animal protection coalition asks court to invalidate California Fish and Game Commission regulation for violating the California Environmental Quality Act.

Ask your state legislators to provide an opportunity for dogs and cats used in research to find loving homes once their time in a research laboratory has come to an end by supporting An Act Protecting Research Animals.