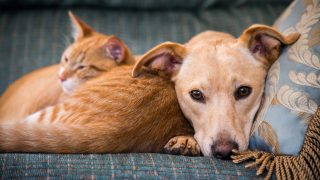 Animals' Legal Status: Current Issues & Future Directions 2018
Presented 5/4/18
Lora Dunn, Director of the Criminal Justice Program for the Animal Legal Defense Fund, will discuss animals' current legal status as property and how this status can hinder animal protection within the criminal law context. She will also highlight creative legal arguments that use this status for the animals' benefit. Lora will lastly discuss recent victories in advancing animals' legal status, particularly as victims.
Matthew Liebman, Director of Litigation for the Animal Legal Defense Fund, will discuss animals' legal status as property through the lens of civil litigation, including common issues that arise because of it. He will also discuss innovative approaches that have been used to move this status forward and the different theories involved.
This webinar has already taken place. You can watch a recording of the session here.
Related
The Animal Legal Defense Fund, the nation's preeminent legal advocacy organization for animals, is offering a $5,000 reward for information leading to the arrest and conviction of the person or people responsible for illegally trapping a coyote in Essex County, Massachusetts.

Animal Legal Defense Fund sues Foster Farms for violating California law by using cruel, water-intensive slaughter method during megadrought

A coalition, led by the Animal Legal Defense Fund, filed an emergency petition with the USDA to prevent COVID-19 relief funds, resources, and any other forms of support from facilitating or compensating for the costs of ventilation shutdown or water-based foam "depopulation" — the mass killing of animals on factory farms.