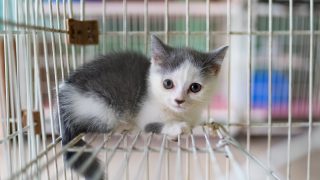 Massachusetts: Prevent Animal Suffering
This action is for Massachusetts residents only.
Protect animals by asking your state legislators to support An Act Addressing Investigations of Reports of Animal Abuse and Neglect (S.2672), an omnibus animal protection bill redrafted by the Judiciary Committee and known as the "minibus."
The bill would:
Prevent convicted animal abusers from owning or accessing animals and facilitate forfeiture of the animal victim
Allow civil citations to be issued for animals kept in cruel conditions
Direct certain fines collected to the Homeless Animal Prevention and Care Fund, which provides critical animal health services and animal control officer trainings
Clarify the cross-reporting law allowing human service agency employees and contractors to report suspected abuse
Please ask your state legislators to co-sponsor this omnibus animal protection bill.
Join the Animal Legal Defense Fund's email list to stay up to date on lawsuits, legislation, and regulations affecting animals.
Sign Up Now
Related
Damning evidence presented during proceedings are the foundation of the appeal

Actress Christian Serratos narrates the Animal Legal Defense Fund film advocating for an end to puppy mills

Animal Legal Defense Fund's lawsuit alleged Hormel misleads consumers with its Natural Choice® brand of lunch meats and bacon