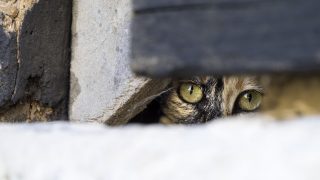 Massachusetts: Help Protect Animals from Cruel Conditions
This action is for Massachusetts residents only.
A bill currently being considered by Massachusetts state lawmakers could make a big difference for cats, rabbits, farmed animals, and other domestic animals in the Commonwealth.
The bill, An Act Enhancing the Issuance of Citations for Cruel Conditions for Animals (H.1840/S.1097), would allow law enforcement officers to issue civil citations to people who keep domestic animals in cruel conditions. This legislation would expand on a current state law that only applies to dogs who are kept in cruel conditions.
Civil citations provide an opportunity to seek corrective action before a situation escalates — potentially protecting many animals throughout the Commonwealth. You can help this important bill become law by contacting your legislators using the form below.
Join the Animal Legal Defense Fund's email list to stay up to date on lawsuits, legislation, and regulations affecting animals.
Sign Up Now
Related
Edie Falco narrates the Animal Legal Defense Fund film demanding transparency in factory farming

D.C. Court of Appeals rules Animal Legal Defense Fund can pursue its claims

Animal Legal Defense Fund-led coalition wins major victory for animal protection, food and worker safety, and the First Amendment