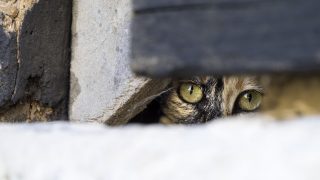 Massachusetts: Help Protect Animals from Cruel Conditions
This action is for Massachusetts residents only.
A bill currently being considered by Massachusetts state lawmakers could make a big difference for cats, rabbits, farmed animals, and other domestic animals in the Commonwealth.
The bill, An Act Enhancing the Issuance of Citations for Cruel Conditions for Animals (H.1840/S.1097), would allow law enforcement officers to issue civil citations to people who keep domestic animals in cruel conditions. This legislation would expand on a current state law that only applies to dogs who are kept in cruel conditions.
Civil citations provide an opportunity to seek corrective action before a situation escalates — potentially protecting many animals throughout the Commonwealth. You can help this important bill become law by contacting your legislators using the form below. Here's how:
Call your state senator and representative and urge them to support the bill. Phone calls have much more impact than emails; if you're able to make a phone call, please do so.
After calling, please send a follow-up email to your legislators using the form below. Personalizing your message will help it stand out.
Join the Animal Legal Defense Fund's email list to stay up to date on lawsuits, legislation, and regulations affecting animals.
Sign Up Now
Related
Actors Paul Wesley, Christina Ricci, Stevie Van Zandt and dozens of native and resident celebrities join the Animal Legal Defense Fund in an open letter urging the state's legislators to end the intensive confinement of mother pigs and calves in New Jersey.

The United States District Court for the Northern District of California ruled in favor of the Animal Legal Defense Fund and its co-plaintiffs, denying an attempt by the Food and Drug Administration (FDA) to dismiss a lawsuit against the agency.

A Courtroom Animal Advocate Program (CAAP) bill, S.2868/A.4533, which would allow law students and volunteer lawyers to advocate for animal victims in cruelty criminal cases, unanimously passed the New Jersey Senate. The bill is sponsored by Senator Nicholas Scutari and Assemblyman Raj Mukherji and endorsed by the Animal Legal Defense Fund.