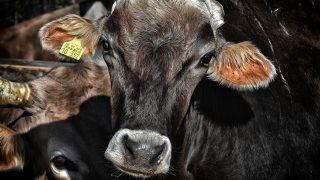 Legally Brief: Animal Legal Defense Fund Leads the Way in Farmed Animal Litigation
Over the years, Animal Legal Defense Fund has filed some of the most innovative lawsuits in history against the animal agricultural industry. During Animal Legal Defense Fund's Speak Out for Farmed Animals Week, I'd like to share some of our greatest hits in litigation aimed at protecting farmed animals from harm and changing the laws that allow the horror of factory farming to continue.
Here are highlights:
Just today, April 2, 2015, Animal Legal Defense Fund sent a formal request to federal agencies under the federal Freedom of Information Act, seeking records regarding the data used to form the National Action Plan for Combating Antibiotic-Resistant Bacteria. Animal Legal Defense Fund is concerned there was inadequate study of the abuse of antibiotics by animal agriculture, which has been linked with antibiotic-resistant "superbugs." This follows our 2013 petition to the USDA to properly label meat and poultry from animals fed dangerous sub-therapeutic antibiotics.
March 2015: California appellate court rejects Napa restaurant's attempt to flout foie gras ban and further establishes that animal advocates have legal standing to stop violations of the law.
October 2014: Animal Legal Defense Fund files first-of-its-kind petition for rulemaking with the California Air Resources Board, calling on that agency to regulate greenhouse gas emissions from factory farms, as it does for the energy and transportation industries.
March 2014: Animal Legal Defense Fund and a broad-based coalition of public interest groups file a lawsuit against the state of Idaho, challenging the constitutionality of its Ag-Gag statute. This lawsuit—and the nation's first lawsuit challenging an Ag-Gag law, against the state of Utah—has survived every motion to dismiss, and a decision is forthcoming.
February 2014: Animal Legal Defense Fund wins a victory for hens and for consumers by successfully settling a false advertising lawsuit against a Bay Area egg producer. As a result, the producer changes its misleading advertising and pays $44,000 split equally between the Sonoma Humane Society, Public Justice Foundation, and Consumer Action.
August 2013: Animal Legal Defense Fund successfully settles its landmark false advertising lawsuit against the largest foie gras producer in the nation, leading the company to remove "humane" descriptions from its products, and extends standing for animal advocates and humane producers to bring lawsuits.
July 2013: Animal Legal Defense Fund's lawsuit against a California restaurant for violating the ban on force-fed foie gras moves forward when the court agrees with Animal Legal Defense Fund's position, affirms the merits of our case, and denies the restaurant's anti-SLAPP motion.
July 2013: Tyson Foods makes substantial changes to its website after Animal Legal Defense Fund submits a complaint to the Federal Trade Commission challenging Tyson's deceptive animal welfare claims.
July 2013: Animal Legal Defense Fund sues Cal Expo and the University of California for mistreating pregnant and nursing pigs at the California state fair. An appeal is filed in February 2014.
December 2012: Animal Legal Defense Fund, along with Center for Food Safety, files a petition with the Food and Drug Administration calling for an immediate reduction in allowable levels of ractopamine, a dangerous and controversial animal feed additive which is already banned or partially restricted in nearly 160 countries, including China, Russia, and all the nations of the European Union.
June 2012: Animal Legal Defense Fund and Compassion Over Killing lawsuit settlement shuts down the abusive Santa Cruz-based Cal-Cruz Hatchery. The settlement marks the first time animal cruelty issues are resolved using California's Business and Professions Code.
May 2012: Animal Legal Defense Fund files historic lawsuit on behalf of three animal sanctuaries in the largest farmed animal rescue in California history, after Turlock-based A&L Poultry abandoned 50,000 hens without food and left them to die. This lawsuit is successfully settled in 2014.
May 2012: Animal Legal Defense Fund and coalition file a lawsuit in the U.S. District Court in Los Angeles against the USDA for violating the federal Poultry Products Inspection Act by allowing the sale of adulterated poultry in the form of foie gras. The case would end foie gras production in the U.S., and is currently on appeal with the Ninth Circuit.
Related
Proposed rule would maintain an unnecessarily complicated and confusing process for children to get access to plant-based milk

Cows were killed in Madison, Brazos, and Robertson Counties, Texas.

Recommendations aim to decrease risk of zoonotic disease spread, animal escapes and attacks, and psychological and physical harm to the animals
Since 1979, the Animal Legal Defense Fund has led the charge to win animals the legal protection they so desperately need—and deserve. Your generous gift will assure that we can continue to take on cases that advance the interests of animals.
Donate