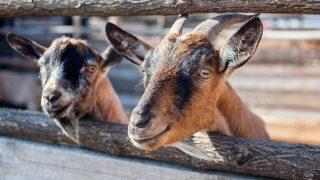 Legally Brief: 5 Ways the Animal Legal Defense Fund Is Challenging Factory Farming of Animals
Factory farms, where animals are raised for production of meat, eggs, and dairy, are the cause of unimaginable suffering for billions of animals in the U.S. each year. They are also a major contributor to climate change and air and water pollution. Yet factory farms are routinely exempted from regulations for animal care and environmental protection.
Here are 5 ways the Animal Legal Defense Fund is challenging factory farming's free ride:
Ag-Gag
Ag-Gag laws criminalize the documentation of animal abuse on factory farms. They don't try to stop animal abuse—they try to stop the reporting of animal abuse, which would hurt the industry's bottom line. Animal Legal Defense Fund and a broad coalition of public interest groups have filed landmark constitutional challenges to these statutes that gag free speech in Utah and Idaho.
Antibiotics
Because of the intensive confinement and filthy conditions on factory farms, the industry recklessly doses animals with antibiotics before they get sick. But this "sub-therapeutic" dosing of animals is linked with the proliferation of "superbugs"—antibiotic resistant bacteria that pose one of the greatest health threats of the 21st century. Currently factory farms aren't even required to label meat products to let consumers know they're consuming potential superbugs—that's why Animal Legal Defense Fund has petitioned the USDA to require mandatory labeling.
Greenhouse gases
Animal agriculture is a significant contributor to climate change—that's an incontrovertible fact established by the International Panel on Climate Change (IPCC) and the United Nations. Yet, unlike the energy and transportation industries, factory farms aren't required to limit greenhouse gas emissions. That's why Animal Legal Defense Fund filed a first-of-its-kind petition calling on the California Air Resources Board to regulate greenhouse gas emissions from factory farms.
Ractopamine
Despite being banned or restricted by the European Union, Russia, China, and 100 other nations, ractopamine is permitted in U.S. animal feed. Use of the drug, which speeds animal growth to slaughter weight, is cruel to animals and dangerous to humans. Animal Legal Defense Fund and the Center for Food Safety have petitioned the Food and Drug Administration to reduce ractopamine use.
Water
As California instigates emergency water restrictions for individuals during its historic drought crisis, factory farms, by far the largest users of water, face no new restrictions. Even though a tiny fraction of consumptive water is used by urban water users, we were asked to cut our water use by 25%. Factory farms that drain nearly half of California's consumptive water use have not been compelled to restrict their water use one iota. Animal Legal Defense Fund will petition the State Water Resources Control Board to ensure that they do.
Join the Animal Legal Defense Fund's email list to stay up to date on lawsuits, legislation, and regulations affecting animals.
Sign Up Now
Undercover investigations and whistleblowers have exposed some of the worst aspects of factory farming, but Ag-Gag laws punish people who speak out about cruelty in animal agriculture. Voice your opposition.
Take Action
Related
Extinction Rebellion San Francisco Bay Area, Oceanic Global, and actor Mark Ruffalo file amicus brief in support of lawsuit arguing a constitutional right to nature, which would prompt federal climate action

Today a coalition of public interest groups, including the Animal Legal Defense Fund, filed a legal petition with the Oregon Water Resources Commission requesting it restrict new mega dairy's use of groundwater in areas in eastern Oregon where special protections are needed.

Earlier this year, a court ordered the U.S. Food and Drug Administration (FDA) to release previously redacted information relating to hen living conditions on several factory egg farms. Our request sought inspection reports of factory egg farms in Texas.