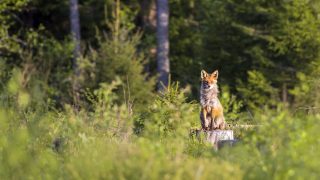 Dozens of Diverse Public Interest Groups and Public Figures File Amicus Brief Urging Court to Hear Climate Change Lawsuit
Extinction Rebellion San Francisco Bay Area, Oceanic Global, and actor Mark Ruffalo file amicus brief in support of lawsuit arguing a constitutional right to nature, which would prompt federal climate action
Contact: media@aldf.org
SAN FRANCISCO — Local, national and global organizations with a wide range of interests — including Indigenous communities, youth leadership, women's rights, environmental and ocean protection, small business, religious, and citizens groups — and celebrities, athletes, and public figures — including Daryl Hannah, Riley Keough and Mark Ruffalo — came together to file an amicus curiae ("friend of the court") brief in support of a groundbreaking lawsuit brought by the Animal Legal Defense Fund and Seeding Sovereignty that aims to compel federal government action on climate change based on a constitutional right to nature and wilderness.
The legal actions in the case, which was first filed in 2018, relies on the constitutionally established right to liberty, freedom, and autonomy — and further relies on the First and Fifth Amendments and the constitutional right to privacy, which courts have called the "right to be let alone."
The brief states, "while a 'right to wilderness' is a right that has not been discretely or formally recognized yet by this court, such a right was well understood to be an essential right as the Constitution and Bill of Rights were drafted. Indeed, the Framers wrote urgently and extensively about the importance of being in and preserving nature."
Join the Animal Legal Defense Fund's email list to stay up to date on lawsuits, legislation, and regulations affecting animals.
Sign Up Now
As society becomes increasingly urbanized and digitally connected, America's public lands constitute one of the last refuges of liberty. Climate change, however, is damaging once pristine natural areas, making them more dangerous and less accessible due to natural disasters such as increased incidences of catastrophic wildfires, unexpected ice melts, and flash flooding — but additionally, and more dangerous, the steady incremental rise in temperature. While humans have greater potential to adapt with the help of science and technology, wildlife may not survive these rapid environmental shifts.
"Today we are joined by some bold organizations and individuals in support of Seeding Sovereignty and our case," says Seeding Sovereignty Founder and Climate Justice Program Director Janet MacGillivray. "Together we know that the health of our precious wilderness is the right to life, inherently essential, priceless in value, and worth fiercely protecting. Amidst heat waves and drought, genocidal takings of sovereign lands, increasing food insecurity, echoes of animal relatives lost daily, and a runaway climate crisis, federally protected wild lands and waters are a reprieve and climate solution we can't chronically risk to revolving-door politics and carving for sale to capitalism's wealthy few."
"The window is closing by the day for us to curb the worst outcomes of misguided federal environmental policies — and strive to restore nature and necessary biodiversity," says Animal Legal Defense Fund Executive Director Stephen Wells. "We are honored to receive support from such a diverse group of organizations demanding swift federal action to address climate change."
The brief was filed by individuals including actress and activist Daryl Hannah, author Derrick Jensen, activist Giada Lubomirski, Indigenous youth Izzy Chasinghorse, youth climate advocate Madeleine MacGillivray, journalist Chris Hedges, actor and activist Mark Ruffalo, actress and activist Riley Keough, environmental justice leader Sharon Lavigne and world champion waterman Zane Kekoa Schweitzer, and organizations Businesses for a Livable Climate; CA Businesses for a Livable Climate; Call to Action Colorado, CatholicNetwork.US; CO Businesses for a Livable Climate; Colorado Small Business Coalition; Extinction Rebellion, San Francisco Bay Area; Future Coalition; North Range Concerned Citizens; Oceanic Global; RapidShift Network; Rising Hearts; Spirit of the Sun; The Green House Connection Center; Unite North Metro Denver; Urban Indigenous Collective; Wall of Women; and Wet'suwet'en Solidarity Front Bay Area.
In addition to the Animal Legal Defense Fund and Seeding Sovereignty, plaintiffs include scientists, nature enthusiasts, and wildlife advocates. The lawsuit is currently on appeal with the United States Court of Appeals for the Ninth Circuit after being dismissed by the Oregon federal court.
Related
Animal Legal Defense Fund and Seeding Sovereignty lawsuit seeks to compel federal government action on climate change.

The Animal Legal Defense Fund filed a lawsuit to protect Americans' right to be let alone and compel federal government action on climate change. The plaintiffs include scientists, nature enthusiasts, and wildlife advocates.

Today a coalition of public interest groups, including the Animal Legal Defense Fund, filed a legal petition with the Oregon Water Resources Commission requesting it restrict new mega dairy's use of groundwater in areas in eastern Oregon where special protections are needed.