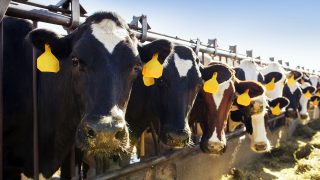 Coalition Files Legal Petition Urging Limitations on Mega Dairies' Use of Water
Exemptions have allowed dairies unlimited water in eastern Oregon as new facilities aim to build in critical groundwater areas
Contact: media@aldf.org
SALEM, Ore. — Today a coalition of public interest groups filed a legal petition with the Oregon Water Resources Commission requesting it restrict new mega dairies' use of groundwater in areas in eastern Oregon where special protections are needed. Without special protection, new dairies would be allowed to use unlimited amounts of water at their facilities under a "stockwatering exemption." The petition is being filed as a new mega dairy within one of the critical groundwater areas is in the permit process.
In 1976, the critical groundwater areas were designated to address groundwater level declines near Boardman in Northeastern Oregon. The designations closed the areas to new permits to use groundwater , but they specifically allowed for new exempt uses, which do not require a water appropriation permit. One such exempt use is for stockwatering, which allows factory farms and dairies limitless extraction for that purpose.
Today, there are three mega-dairy sites within the critical groundwater areas: Sage Hollow Ranch, Meenderninck Dairy, and the site of the former Lost Valley Farm. Threemile Canyon Farms — the largest mega dairy in Oregon and in all of the United States — lies just outside the critical groundwater areas. It is permitted to confine approximately 90,000 cows on its 93,000-acre property under several affiliated businesses.
"It takes 48 gallons of water to produce one glass of cows' milk," says Animal Legal Defense Fund Executive Director Stephen Wells. "While residents are being forced to conserve water due to drought conditions, new dairies cannot be permitted to further deplete already taxed resources. We urge the Commission to protect its residents and its groundwater."
All industrial animal agriculture facilities consume vast quantities of water, but publicly available groundwater data reveals that mega dairies are particularly water-intensive, requiring even more water than feedlots. The continued expansion of industrial dairy facilities within critical groundwater areas has and will exploit water reserves at even greater rates than other industrial facilities.
To address this situation, the "Stand Up to Factory Farms" coalition — which includes the Animal Legal Defense Fund, WaterWatch of Oregon, Humane Voters of Oregon, Food & Water Watch, Center for Food Safety, Center for Biological Diversity, Friends of Family Farmers, Columbia Riverkeeper, Friends of the Columbia Gorge, Oregon Rural Action, and Farm Forward — is proposing the Commission amend its rules so that the stockwatering exemption does not apply to new water uses of more than 5,000 gallons per day within two critical groundwater areas in eastern Oregon.
"The unlimited stockwatering exemption to water-use permit requirements may have made sense in a time of small, dispersed farming operations, but it doesn't make sense in today's world of industrial agriculture with tens of thousands of animals confined in one place," said Brian Posewitz, a staff attorney with WaterWatch of Oregon. "It especially doesn't make sense in an area otherwise closed to new uses because existing groundwater use has already been found to be unsustainable."
A copy of the petition is available upon request.
Related
Cows were killed in Madison, Brazos, and Robertson Counties, Texas.

The U.S. Court of Appeals for the Fourth Circuit handed an important win to plaintiffs in a lawsuit challenging North Carolina's Ag-Gag law, ruling that undercover investigations and whistleblowing are considered newsgathering activities protected by the First Amendment.

Public interest coalition celebrates another win against unconstitutional statute barring undercover investigations at factory farms