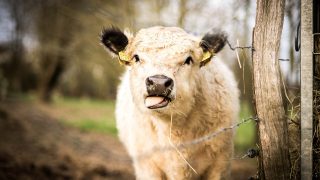 Ag-Gag: Outlawing Voices Who Speak for the Voiceless
The U.S. Department of Agriculture (USDA), the federal agency responsible for the enforcement of laws pertaining to farming, agriculture, and food production, estimates that more than 9 billion animals will be slaughtered in the U.S. this year.
Despite increasing worldwide demand for meat and the accelerating pace of American slaughter lines, there are acknowledged staffing shortages among the USDA's inspector corps that have existed for some time. More than half a million people work in low-income jobs in American slaughterhouses and related facilities. Many are undocumented, and they labor with little job security in physically demanding and often dangerous conditions.
In October 2014:
Following years of intense lobbying by the meat industry and in spite of opposition from citizens groups, the USDA elected to allow some poultry plant employees, rather than USDA inspectors, decide whether their products are safe for consumption. At the same time, the agency reduced the number of trained inspectors in plants nationwide.
Meanwhile numerous investigations within the animal agriculture industry have exposed a pattern and practice of animal cruelty and workplace violations. In response, and at the behest of the industry, eight states have passed laws that essentially criminalize whistleblowing and undercover activism, making it illegal to record and disseminate photographs or footage taken in agricultural operations. These are the "Ag-Gag" laws.
Agribusiness leaders want to hide the suffering of the animals they kill and of the workers who kill and butcher them. They want to hide the frantic pace of production that churns fecal matter into ground meat. They want to hide lagoons of hog offal that pollute groundwater with the insecticides, antibiotics, and vaccines used to fatten hogs, herds, and profit margins.
But Animal Legal Defense Fund is challenging the industry's efforts to cover up its illegal activities in court, with cooperation from allied organizations in consumer rights, food safety, civil liberties, and whistleblower-protection agencies.
In 2013:
Animal Legal Defense Fund led a coalition in filing the nation's first challenge to an Ag-Gag law, representing activist Amy Meyer in a case against the state of Utah, charging that the law infringes on free-speech rights by criminalizing undercover investigations.
Meyer, who had videotaped the operations at Dale Smith Meatpacking Company from the roadside, was the first person in the nation to be prosecuted under an Ag-Gag law, although the charges were dropped after a public outcry. In August 2014, despite a motion from the state to dismiss the case, the court allowed the lawsuit to move forward.
Last August, in another lawsuit brought by Animal Legal Defense Fund and a coalition of public interest organizations, including PETA, the Center for Food Safety, and the ACLU, a federal district court in Idaho struck down the state's Ag-Gag law as unconstitutional under the First Amendment.
Drafted by the Idaho Dairymen's Association, the law made it a criminal offense to document animal welfare, worker safety, and food safety violations at any "agricultural production facility," thus "gagging" speech that is critical of industrial agriculture.
The statute defines "agricultural production facility" so broadly that it applies not only to factory farms and slaughterhouses, but also to public parks, restaurants, nursing homes, grocery stores, pet stores, and virtually every public accommodation and private residence.
In Wyoming, Animal Legal Defense Fund represented environmentalists in challenging two state laws criminalizing any individual who enters private or public open land without permission to collect what the state defines as resource data—including pictures of noxious weeds, samples of polluted water, videos of injured animals, or notes on the landscape—and then communicates that data to a federal or state agency.
Most recently, Animal Legal Defense Fund and a coalition of allied organizations filed a federal lawsuit challenging the constitutionality of a new North Carolina law that allows for civil suits against whistleblowers who seek to reveal wrongdoing at any workplace.
That law, effective January 1, prohibits investigations not only in agricultural settings, but also in any private business, including hospitals, elder care facilities, veteran care facilities, and schools. The New York Times endorsed the lawsuit, writing that "[t]he secrecy promoted by ag-gag laws should have no place in American society."
Nonetheless, big agribusiness knows that interest continues to grow among the American public in where its food comes from, who's producing it, and how it's being produced.
In North Carolina, a state with an economy heavily dependent on hog production, 74 percent of voters "support undercover investigations by animal welfare groups on farms," according to a May 2015 poll. In Idaho, an October 2015 poll found 53 percent of respondents agreed with the federal judge's overturning of that state's Ag-Gag law, while less than a third opposed his ruling.
Though not to be taken lightly, we see such laws as examples of the desperation increasingly felt by industries that rely on cruelty and neglect to thrive. With so much to hide, corporate meat producers feel forced to firewall their practices from government inspectors, from their own customers, and from the American public. No Ag-Gag law is immune from challenge.
Related
Earlier this summer, the driver of a pig transport truck struck and killed longtime animal advocate Regan Russell. The circumstances regarding her death are not fully known to the public, but top to bottom, the animal agriculture industry is rarely held accountable.

A series of billboards, in English and Spanish, are launching near slaughterhouses across the country — offering an online tip portal where industrial animal agriculture workers can report any concerns. Joaquin Phoenix partnered with the Animal Legal Defense Fund in offering and promoting ReportAnimalAg.com to allow individuals to remain anonymous.

The Animal Legal Defense Fund announced that the U.S. District Court for the Northern District of California has denied the California Department of Food and Agriculture's (CDFA) motion to dismiss the lawsuit filed on behalf of Miyoko's Creamery (Miyoko's).