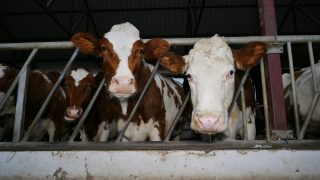 Lawsuit Raises the Stakes in Food Fight Over the Term "Meat"
Coalition challenges constitutionality of recent Missouri legislative restrictions on products that use the term "meat" on their labels
Contact: media@aldf.org
Jefferson City, Mo. – In a brazen attempt to stifle the growing grocery category of plant-based meat — and the coming market introduction of meat grown directly from cells without the need for raising and slaughtering animals, sometimes called "clean meat"— Missouri legislators passed a law that will prohibit "misrepresenting" any product as "meat" if it does not come from a slaughtered animal.
A coalition of organizations — including the ACLU of Missouri, the Animal Legal Defense Fund, the Good Food Institute, and plant-based meat powerhouse Tofurky — are challenging the law, which is scheduled to go into effect on August 28, 2018.
"As more and more consumers are making the conscious choice to remove animals from their plates, Missouri is putting its thumb on the scale to unfairly benefit the meat industry and silence alternative producers," says Animal Legal Defense Fund Executive Director Stephen Wells. "This law violates various constitutional principles, including free speech — which should be a concern for everyone, regardless of diet."
The complaint also alleges that the law violates the Dormant Commerce Clause by discriminating against out-of-state companies to protect in-state meat producers and the Due Process Clause by being so vague it's impossible for companies to know what is and is not legal.
"Corporations – just like individuals – have the First Amendment right to free, truthful speech," said ACLU of Missouri Legal Director Tony Rothert. "This law is unconstitutional because it makes truthful speech a crime."
The explicit aim of the law is to protect the animal agriculture industry, as producers of meat products from slaughtered animals perceive a growing threat to their market share. The state's consumer protection agency admits it has no evidence of consumer confusion over the labeling of plant-based meats.
But not all animal agriculture giants have dug in their heels. The largest and third-largest meat companies in the country, Tyson Foods and Cargill, have both invested in clean meat companies, and Tyson has invested in plant-based meat — which significantly reduce or eliminate the negative environmental impacts, animal cruelty, and public health risks that are associated with meat from slaughtered animals.
"Americans don't like censorship, and they don't like the government picking winners and losers in the marketplace," explains GFI Executive Director Bruce Friedrich. "We're confident that the Court will overturn this anti-competitive and unconstitutional law."
Related
Actors Paul Wesley, Christina Ricci, Stevie Van Zandt and dozens of native and resident celebrities join the Animal Legal Defense Fund in an open letter urging the state's legislators to end the intensive confinement of mother pigs and calves in New Jersey.

The United States District Court for the Northern District of California ruled in favor of the Animal Legal Defense Fund and its co-plaintiffs, denying an attempt by the Food and Drug Administration (FDA) to dismiss a lawsuit against the agency.

The Animal Legal Defense Fund released the second in a series of white papers — COVID-19 and Factory Farming —providing policy recommendations to address industrial animal agriculture's role in our heightened risk for zoonotic diseases outbreaks, like COVID-19, and its potential to be the source of the next global pandemic.