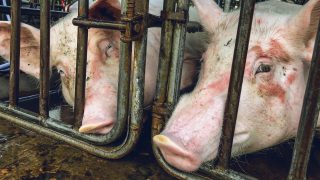 Lawsuit Challenges Constitutionality of Iowa's Revamped Ag-Gag Law
Coalition asserts the First Amendment protects investigations using video and audio recordings of factory farms
Contact: media@aldf.org
Des Moines, IA – Today the Animal Legal Defense Fund, together with a coalition of public interest groups represented by Public Justice, filed a lawsuit in the U.S. District Court for the Southern District of Iowa, challenging the constitutionality of the recently-passed Iowa Recording Ban. The new Ag-Gag law — which creates a new crime of "trespassing" to engage in video and audio recording — again criminalizes the tools of undercover journalism and investigations in violation of the First Amendment, just as the state's previous two Ag-Gag laws did that were challenged in the past.
Iowa's Ag-Gag laws are designed to criminalize investigations at factory farms, slaughterhouses, and puppy mills. The first, passed in 2012, was struck down in 2019 and is now before the Eighth Circuit Court of Appeals. After Iowa passed a second Ag-Gag law, the coalition brought another constitutional challenge and secured a preliminary injunction in 2019 barring the law's enforcement while the lawsuit proceeds.
While the previous two Ag-Gag laws in Iowa targeted investigative deception and misrepresentation to gain access and employment at industrial agriculture facilities, the new law has created a unique crime to deter investigations and public advocacy. The law threatens increased penalties for recording even in public places and locations advocates have long used for public advocacy, such as in open areas of legislators' offices and parts of businesses in which other members of the public regularly come and go.
"After repeated attempts by the state of Iowa to thwart animal advocates' efforts to document the inhumane treatment of animals on factory farms, the legislature has enacted a new and broader law that deceptively impacts a broad range of industries while still maintaining its original — and unconstitutional — purpose of suppressing speech about industrial agriculture," says Animal Legal Defense Fund Executive Director Stephen Wells. "The Animal Legal Defense Fund will continue to challenge the various incarnations of Ag-Gag laws that seek to hide animal abuse."
"Iowa's elected officials have once again chosen to make industrial ag companies immune from public scrutiny in violation of the First Amendment," said David Muraskin, Litigation Director of the Public Justice Food Project, who represents the plaintiff groups in the challenge. "We are confident that this wide-ranging, dangerous, and desperate Ag-Gag law yet will be struck down."
For more than a century, the public has relied on undercover investigations to expose illegal and cruel practices on factory farms and in slaughterhouses. No federal laws govern the condition in which farmed animals are raised for food, and laws addressing slaughter and transport are laxly enforced. Undercover investigations are the primary avenue through which the public receives information about animal agriculture operations.
This is the ninth lawsuit challenging state Ag-Gag laws around the country including from Iowa. In addition to the challenges to the Iowa laws, earlier lawsuits have resulted in courts striking down similar laws in North Carolina, Kansas, Idaho, Utah, and Wyoming. North Carolina and Kansas have appealed—with decisions pending. A challenge to the Arkansas Ag-Gag law is also awaiting a decision by the Eighth Circuit Court of Appeals.
The coalition comprises plaintiffs Animal Legal Defense Fund, Iowa Citizens for Community Improvement, Bailing Out Benji, People for the Ethical Treatment of Animals, and Food & Water Watch, who are represented by Public Justice, in-house counsel, the Law Office of Matthew Strugar, and Roxanne Conlin & Associates.
Join the Animal Legal Defense Fund's email list to stay up to date on lawsuits, legislation, and regulations affecting animals.
Sign Up Now
Related
Public interest coalition celebrates another win against unconstitutional statute barring undercover investigations at factory farms

Edie Falco narrates the Animal Legal Defense Fund film demanding transparency in factory farming

D.C. Court of Appeals rules Animal Legal Defense Fund can pursue its claims