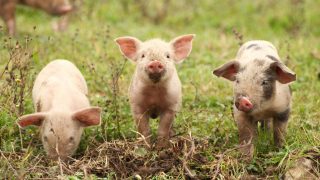 Spotlight: Josie Moberg
Josie Moberg is a 2021 recipient of the Animal Legal Defense Fund's Advancement in Animal Law Scholarship.
Josie Moberg is a 2021 recipient of the Animal Legal Defense Fund's Advancement in Animal Law Scholarship. This award honors students who demonstrate a commitment to the Animal Legal Defense Fund's mission: "to advance the interests and protect the lives of animals through the legal system." Recipients are actively involved in their Animal Legal Defense Fund Student Chapter while in law school and show promise in the field after graduation.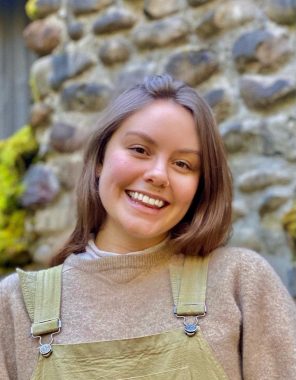 Josie (she/they) is a rising 3L at Lewis & Clark Law School. During her time in law school, she has taken a variety of animal law courses and worked as a Source-Checker for the Animal Law Review. She is currently a project coordinator for the Northwest Environmental Defense Center's Food and Agriculture group as well, where she leads fellow students in animal-friendly pro-bono legal projects- including public comments to state agencies against Clean Water Act permits for new proposed Confined Animal Feeding Operations (CAFOs).
What Animal Legal Defense Fund student chapter activities are you proudest of and why?
I'm in the unique position of having experienced our ALDF student chapter in a mostly remote capacity (due to the COVID-19 pandemic). Perhaps surprisingly, though, there are still countless sources of pride for our chapter's work, despite its fully online platform. I suppose my favorite component of our chapter's work this past semester was the 10th annual Animal Law Review Symposium, which we put on in collaboration with the Animal Law Review. The presenters, each an expert in their field, presented on a variety of topics. The webinars ranged from animal testing, to the current landscape of Democracy under the Biden administration, to the fight for queer and racial justice in animal advocacy spaces, to the interconnection between environmental and animal law, to reimagining how to address animal maltreatment in ways outside of the normalized criminal justice system. I think despite the virtual platform, the symposium brought folks together and made sure that these important conversations were still happening despite the quarantine.
Any other noteworthy experience?
I think I would just like to emphasize how great our leadership was this past year. Our co-chairs Conor Lamkin and Ellie Nicoletta were always extremely supportive of our members and constantly ensured that we created space for critical perspectives on race, class, and institutional power. It really helped our chapter make sure that the work we did was contextualized with the broader fight for social justice, and I think also helped build cross-movement solidarity on our campus as well.
What is an animal law related goal of yours for the upcoming academic year?
In addition to acting as Co-Chair of our ALDF chapter this upcoming year, I'm excited to participate in the Animal Litigation Clinic led by Professor Delcianna Winders. I know that the students in the clinic this year were able to do extremely important work challenging the deregulation (and general lack of regulation) of slaughterhouses, and I'm eager to learn more and contribute to the clinic's efforts. Because this upcoming year will be my last (3L), I want to make sure that I take full advantage of the animal law community at the school. There are so many great professors, students, resources, and conversations, and I'm excited to soak up every bit that I can.
What are your plans/goals for post-graduation?
My ideal post-graduate career would be to work on grassroots animal legal advocacy campaigns and projects funded by outside grants. I think that it is easier to build movement power in the right way when there is more flexibility and freedom in the work's structure, and I think that both nonprofit and government jobs can constrain the creativity and deep connections required to make truly impactful change. That being said, I also want to ensure that I have fully developed my skills as an attorney before venturing out on my own and I will likely work for several years in an established organization before I feel confident enough to pursue a less rigidly structured, more community-based path. Regardless, I know that I want to dedicate myself to providing legal support to the animal advocacy movement, both by pushing for changes within the legal system and supporting other branches of the movement as well.
What is one piece of advice that you'd like to pass on to other Animal Legal Defense Fund student chapter leaders?
I think my biggest piece of advice is that if you don't do something, you can't count on someone else getting it done. This applies to everything from curating a healthy and cooperative environment of organizing, to making sure that critical reflection and accountability are integrated into the chapter's work, to energetically taking on new and creative endeavors. As animal law students/ future lawyers, we hold a lot of institutional access and power, and it is our job to make sure that we are constantly reflecting on what we are perpetuating both within and outside of that system. We have an opportunity to leverage serious resources and opportunities, and it's important that we follow the lead of those on the frontlines of social justice movements in our animal advocacy work.
Learn more about the other 2021 Advancement in Animal Law Scholarship winners.
Recent News
Contact your state senator to support California's cat declawing ban, AB 2606. California could become the next state to the painful surgical procedure in which all or part of the last bone in a cat's toes are amputated.

The California Court of Appeals affirmed a ruling by a lower court recognizing Society for the Prevention of Animal Cruelty (SPCA) organizations' ability to file lawsuits against entities that violate existing animal protection laws.

Reward for information leading to the arrest and conviction of the person or people responsible for illegally shooting and killing a red wolf in Tyrrell County, North Carolina.
Help animals win the legal protections they so desperately need and deserve, and ensure they have an advocate in courtrooms and legislatures across the country.
Take Action Now