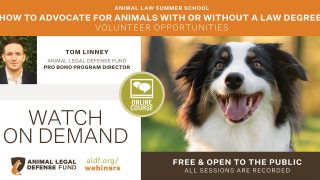 How to Advocate for Animals With or Without a Law Degree: Volunteer Opportunities
Presented 6/30/20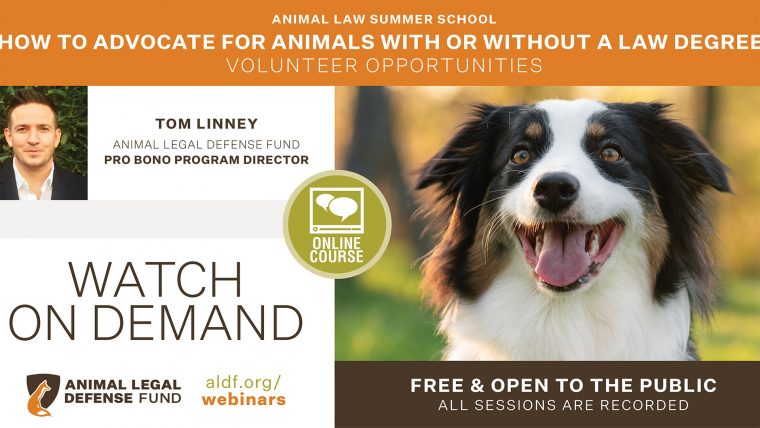 Do you want to change the world for animals but are not sure where to begin? Join Pro Bono Program Director Tom Linney as he discusses fun and meaningful ways that each of us can volunteer in our communities to make a difference for animals. Tom will also discuss how legal professionals, regardless of employment or specialization, can advocate for animals as part of the Animal Legal Defense Fund's volunteer network. Law students, attorneys, and paralegals are highly encouraged to attend, but all are welcome for this light-hearted and interactive presentation.
This webinar was prerecorded. Watch now!
Resources
Join the Animal Legal Defense Fund's email list to stay up to date on lawsuits, legislation, and regulations affecting animals.
Sign Up Now
Related
The Animal Legal Defense Fund filed a lawsuit against the United States Department of Agriculture (USDA) under the Freedom of Information Act (FOIA) over the agency's critical redactions in a contract between the USDA's Wildlife Services program and a Colorado slaughterhouse, outlining plans for slaughtering geese rounded up in parks across Denver.

The Animal Legal Defense Fund released the second in a series of white papers — COVID-19 and Factory Farming —providing policy recommendations to address industrial animal agriculture's role in our heightened risk for zoonotic diseases outbreaks, like COVID-19, and its potential to be the source of the next global pandemic.

These awards celebrate chapters that have shown incredible efforts in advancing animal law and advocating for animals through original projects and initiatives. Animal Legal Defense Fund Student Chapters are a vital part of the growing animal law movement.