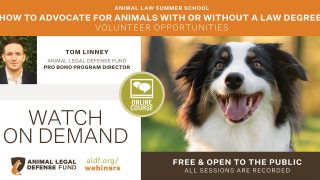 How to Advocate for Animals With or Without a Law Degree: Volunteer Opportunities
Presented 6/30/20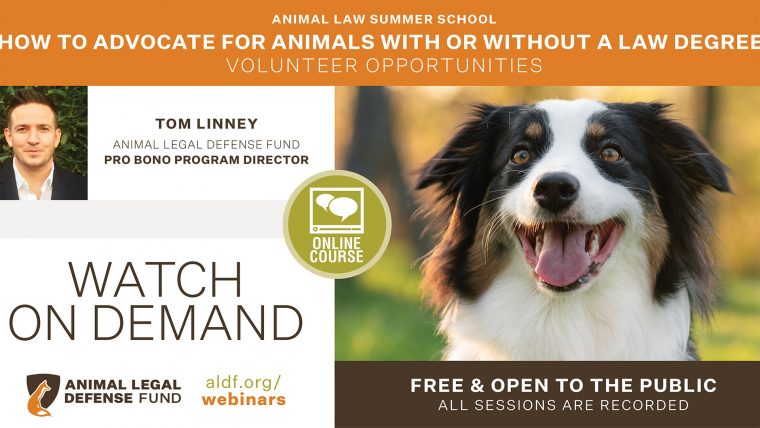 Do you want to change the world for animals but are not sure where to begin? Join Pro Bono Program Director Tom Linney as he discusses fun and meaningful ways that each of us can volunteer in our communities to make a difference for animals. Tom will also discuss how legal professionals, regardless of employment or specialization, can advocate for animals as part of the Animal Legal Defense Fund's volunteer network. Law students, attorneys, and paralegals are highly encouraged to attend, but all are welcome for this light-hearted and interactive presentation.
This webinar was prerecorded. Watch now!
Resources
Join the Animal Legal Defense Fund's email list to stay up to date on lawsuits, legislation, and regulations affecting animals.
Sign Up Now
Related
The Animal Legal Defense Fund, the nation's preeminent legal advocacy organization for animals, is offering a $5,000 reward for information leading to the arrest and conviction of the person or people responsible for illegally trapping a coyote in Essex County, Massachusetts.

Animal Legal Defense Fund sues Foster Farms for violating California law by using cruel, water-intensive slaughter method during megadrought

A coalition, led by the Animal Legal Defense Fund, filed an emergency petition with the USDA to prevent COVID-19 relief funds, resources, and any other forms of support from facilitating or compensating for the costs of ventilation shutdown or water-based foam "depopulation" — the mass killing of animals on factory farms.