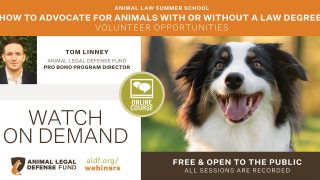 How to Advocate for Animals With or Without a Law Degree: Volunteer Opportunities
Presented 6/30/20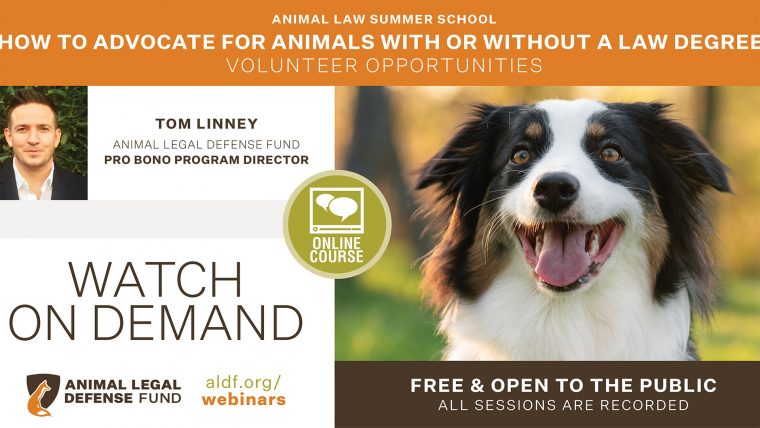 Do you want to change the world for animals but are not sure where to begin? Join Pro Bono Program Director Tom Linney as he discusses fun and meaningful ways that each of us can volunteer in our communities to make a difference for animals. Tom will also discuss how legal professionals, regardless of employment or specialization, can advocate for animals as part of the Animal Legal Defense Fund's volunteer network. Law students, attorneys, and paralegals are highly encouraged to attend, but all are welcome for this light-hearted and interactive presentation.
This webinar was prerecorded. Watch now!
Resources
Join the Animal Legal Defense Fund's email list to stay up to date on lawsuits, legislation, and regulations affecting animals.
Sign Up Now
Related
The Animal Legal Defense Fund, the preeminent legal advocate for animals, released the first in a series of white papers providing policy recommendations to reduce our heightened risk from zoonotic diseases like COVID-19 and the next global pandemic, which need only a human-animal interaction to arise.

The Animal Legal Defense Fund has launched a series of billboards, in English and Spanish, surrounding the JBS slaughterhouse in Greeley, Colorado — offering an online tip portal where industrial animal agriculture workers can report any concerns, including worker safety, animal abuse and depopulation, and illegal disposal of animals' bodies.

The Animal Legal Defense Fund announced that the U.S. District Court for the Northern District of California has denied the California Department of Food and Agriculture's (CDFA) motion to dismiss the lawsuit filed on behalf of Miyoko's Creamery (Miyoko's).