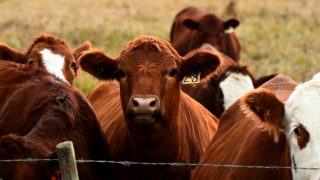 Help Stop the Use of Harmful Drugs at Factory Farms
Report concerns about the effects of beta-agonists on animals and the environment
Thank you for trusting us with your concerns and for your assistance in protecting animals in your community. Please answer the questions below and we will be in touch with you shortly for any additional information we may need.
Please note that your contact with us is not confidential or privileged, and it does not create an attorney-client relationship with the Animal Legal Defense Fund or any member of our legal staff.
By submitting this form, you agree to be contacted by the Animal Legal Defense Fund.
Join the Animal Legal Defense Fund's email list to stay up to date on lawsuits, legislation, and regulations affecting animals.
Sign Up Now
Related
Extreme changes to the regulations have widespread consequences for animals, surrounding communities, and the environment

The Animal Legal Defense Fund announced that the U.S. District Court for the Northern District of California has granted a preliminary injunction that allows Miyoko's Creamery (Miyoko's) to maintain its labeling as-is while the case proceeds without fear of enforcement by the California Department of Food and Agriculture (CDFA).

A series of billboards, in English and Spanish, are launching near slaughterhouses across the country — offering an online tip portal where industrial animal agriculture workers can report any concerns. Joaquin Phoenix partnered with the Animal Legal Defense Fund in offering and promoting ReportAnimalAg.com to allow individuals to remain anonymous.