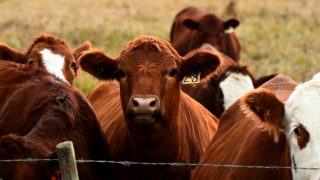 Help Stop the Use of Harmful Drugs at Factory Farms
Report concerns about the effects of beta-agonists on animals and the environment
Thank you for trusting us with your concerns and for your assistance in protecting animals in your community. Please answer the questions below and we will be in touch with you shortly for any additional information we may need.
Please note that your contact with us is not confidential or privileged, and it does not create an attorney-client relationship with the Animal Legal Defense Fund or any member of our legal staff.
By submitting this form, you agree to be contacted by the Animal Legal Defense Fund.
Join the Animal Legal Defense Fund's email list to stay up to date on lawsuits, legislation, and regulations affecting animals.
Sign Up Now
Related
Actors Paul Wesley, Christina Ricci, Stevie Van Zandt and dozens of native and resident celebrities join the Animal Legal Defense Fund in an open letter urging the state's legislators to end the intensive confinement of mother pigs and calves in New Jersey.

The United States District Court for the Northern District of California ruled in favor of the Animal Legal Defense Fund and its co-plaintiffs, denying an attempt by the Food and Drug Administration (FDA) to dismiss a lawsuit against the agency.

The Animal Legal Defense Fund released the second in a series of white papers — COVID-19 and Factory Farming —providing policy recommendations to address industrial animal agriculture's role in our heightened risk for zoonotic diseases outbreaks, like COVID-19, and its potential to be the source of the next global pandemic.