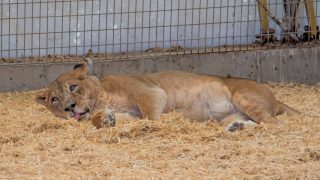 Hearing Tomorrow on Cricket Hollow Zoo License
Federal Court Orders Hearing on Animal Legal Defense Fund's Lawsuit under Endangered Species Act
Contact: media@aldf.org
Manchester, Iowa — On Thursday, August 6, the U.S. District Court for the Northern District of Iowa, Cedar Rapids Division will hear oral arguments in the Animal Legal Defense Fund's summary judgment motion in its lawsuit against the Cricket Hollow Zoo and its owners Pamela and Tom Sellner for alleged violations of the Endangered Species Act.
Animal Legal Defense Fund moved for a summary judgment against the Zoo on June 1, 2015. As part of its motion, Animal Legal Defense Fund submitted extensive evidence of ongoing mental and physical suffering to endangered tigers, lemurs, and gray wolves exhibited at the Zoo.
This evidence included USDA inspection reports and photographs documenting the Zoo's chronic violations of the Animal Welfare Act as well as expert reports authored by a foremost researcher of lemurs in captivity and Madagascar, a preeminent wildlife veterinarian who has treated hundreds of captive exotic animals, and a retired zoo administrator with several decades' experience. The Court will consider this evidence during the hearing on Thursday.
In early June, the U.S. Department of Agriculture (USDA) temporarily suspended the Zoo's license to operate. According to the Animal Welfare Act, the USDA can suspend a license to operate an animal enterprise "in any case of actual or threatened physical harm to animals" or if the USDA has reason to believe that the licensee has violated or is violating the Animal Welfare Act.
When: Thursday, August 6th at 11:00am
Where: United States Courthouse
111 7th Ave. SE.
Fourth floor, Courtroom 3
Cedar Rapids, Iowa
Interview Opportunities:
Jessica Blome, Staff Attorney, Animal Legal Defense Fund
Jeff Pierce, Attorney, Animal Legal Defense Fund
Copies of the complaint, motion for summary judgment, and expert reports are available for download.
Related
Proposed rule would maintain an unnecessarily complicated and confusing process for children to get access to plant-based milk

Recommendations aim to decrease risk of zoonotic disease spread, animal escapes and attacks, and psychological and physical harm to the animals

The bill helps end the rampant abuse of tigers and other big cats in captivity by banning private possession