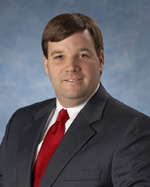 Gavin Parsons donated his expert legal assistance on the Animal Legal Defense Fund's landmark lawsuit that freed Ben the Bear from a shameful North Carolina roadside zoo. Ben lived in deplorable conditions that eroded his physical health and mental well-being. With help from Gavin, the Animal Legal Defense Fund and PETA secured Ben's freedom. He now resides at a sanctuary operated by the Performing Animal Welfare Society (PAWS) in California.
When Gavin heard about Ben's case he eagerly jumped on board, despite not having experience litigating North Carolina's "Civil Remedy for Protection of Animals" law (Chapter 19A). Ben's case was unusual for several crucial reasons, he says. North Carolina is one of few states that possess citizen's enforcement laws like 19A, which allow citizens to file civil lawsuits to stop criminal animal cruelty. Furthermore, most cruelty cases tackle the more obvious physical suffering, whereas in this case, Ben was suffering not only physiological damage but less visible psychological and emotional distress. "You can't x-ray it, it's not like a broken bone," says Gavin. The Animal Legal Defense Fund has used this state law in numerous other high profile North Carolina cases, including ALDF v. Woodley (which was profiled in O magazine as "Operation Rescue"), in which the Animal Legal Defense Fund rescued more than 300 dogs from North Carolina hoarders.
Gavin knew for the court to take Ben's case seriously, "they were going to have to accept the science" and expert veterinary reports that demonstrated Ben exhibited stereotypical behaviors of mental anguish. "You observe something like that in an animal…it's just wrong." Establishing this factual record was an important factor in the victory, says Gavin, who successfully presented the case to the court.
Even after the victory, Gavin explains that the situation for Ben was nerve-wracking until the very end. Transporting Ben in the muggy environs of a North Carolina summer caused some concern. FedEx generously provided an air-conditioned cross-country flight for Ben, an operation they affectionately dubbed "Bear Force One." As Gavin explains, "I really did not know you could FedEx a bear."
Luckily, Ben's story has a happy ending. Gavin, who had witnessed Ben's suffering in North Carolina, says that Ben's transformation at PAWS, where he happily splashes away in his pool—"looks like night and day." Watch the video of a happy Ben in his new home!
Working with ALDF was deeply gratifying, explains Gavin. "We have a great working relationship. When it came to animal-specific issues, it was nice to have that kind of expertise. This was a rewarding case because I learned a lot from working with lawyers who have a specialized knowledge, while I brought specialized knowledge in local, civil courtrooms, and strategy." And for younger lawyers, giving back to your community by donating pro bono legal services is simply "what ought to be done."
Law is in Gavin's blood—along with his father, he practices complex civil litigation as a partner at Troutman Sanders in Raleigh. He was selected as a Rising Star in Business Litigation in the 2009-2013 editions of North Carolina Super Lawyers, published by Law & Politics and Charlotte Magazine. Gavin holds a J.D. from Wake Forest University and a B.A. from North Carolina State University. Gavin has always been an animal lover. He and his wife, and their three children, share their home with African dwarf frogs, and a lab-hound puppy they recently adopted from an animal shelter.
The Animal Legal Defense Fund would never be able to use the law to advance the interests of animals without the support of legal professionals nationwide. In this continuing series of spotlights, ALDF salutes attorney Gavin Parsons.
Related
Today the Delaware County district court granted a motion for contempt filed by the Animal Legal Defense Fund against Cricket Hollow Zoo and its owners, Pamela and Thomas Sellner, seeking the whereabouts of more than 100 animals who "disappeared" prior to a court-ordered rescue.

The U.S. Department of Agriculture (USDA) has cancelled notorious wildlife exhibitor and trafficker Robert Sawmiller's license to engage in exhibition, breeding and selling activities regulated by the Animal Welfare Act (AWA) following the Animal Legal Defense Fund's lawsuit against the agency for initially renewing the license. 

The court's decision ensures Special Memories Zoo is permanently closed following Animal Legal Defense Fund lawsuit