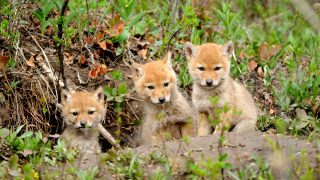 Coalition Urges Humboldt County to Void Illegal Lethal Contract with Federal Wildlife-Killing Agency
Contract violates the California Environmental Quality Act, the California Endangered Species Act, the Public Trust Doctrine and other laws
Contact: media@aldf.org
Washington, DC – Today, a coalition of animal protection and conservation groups sent a letter to the Humboldt County Board of Supervisors and Humboldt County Agriculture Commissioner, urging them to terminate their contract with the U.S. Department of Agriculture's Wildlife Services ("Wildlife Services").
The federal wildlife-killing agency's methods are unnecessarily cruel, and the Humboldt County contract violates state law. The coalition, led by the Animal Legal Defense Fund, includes the Animal Welfare Institute, the Center for Biological Diversity, the Mountain Lion Foundation, Project Coyote, and WildEarth Guardians.
Humboldt County is the most recent county the coalition has called upon to cancel its illegal contract with Wildlife Services. Shasta, Siskiyou, Monterey, Sonoma, and Mendocino Counties have all terminated, suspended or considered the environmental effects of their contracts — either voluntarily or by court order — after the Animal Legal Defense Fund and its allies took or threatened legal action.
"Californians love animals, so the number of animals recklessly killed by this federal agency at the behest of Humboldt County is shocking and illegal," says Animal Legal Defense Fund Executive Director Stephen Wells. "The law must be enforced, and wild animals must be protected. We urge Humboldt County to do the right thing and terminate its contract with Wildlife Services."
"Many non-lethal alternatives exist that effectively reduce if not eliminate conflicts between livestock and predators," said Camilla Fox, founder and executive director of Project Coyote. "Humboldt County should follow the lead of counties like Marin that decided to adopt a non- lethal cost-share program in place of the USDA Wildlife Services lethal and indiscriminate program. Marin's Livestock and Wildlife Protection Program is more cost effective, humane, and has proven that non-lethal methods—including guard animals, Foxlights, and better fencing—are effective deterrents."
Each year Humboldt County spends nearly $70,000 in taxpayer dollars to employ Wildlife Services to cruelly kill hundreds of native animals under the Humboldt County Integrated Wildlife Damage Management (IWDM) Program.
From July 2016 to July 2017 alone, Wildlife Services killed 221 individual animals in Humboldt County, including 16 coyotes, 1 mountain lion, 5 black bears, 151 striped skunks, 36 raccoons and 9 Virginia opossums — overwhelmingly on behalf of animal agricultural producers.
This killing program is cruel, ineffective, unnecessary and not cost effective. And because the county has not assessed the ecological damage or considered alternatives to its lethal program, the IWDM also violates the California Environmental Quality Act, the California Endangered Species Act, the Public Trust Doctrine and other laws.
Millions of native wild animals, including coyotes, mountain lions, and bears, are targeted and killed by Wildlife Services. Tell Wildlife Services to stop using your tax dollars to slaughter animals by signing our petition.
Sign Petition
Related
The lawsuit alleges federally endangered and threatened animals such as the tigers, lions, and ring-tailed lemurs are receiving inadequate care at Tiger Creek

Thanks to Animal Legal Defense Fund supporters, a tiger named Nila, two lions — Buddy and Missa, two ring-tailed lemurs, a Mikado pheasant, a military macaw, and a blue-and-gold macaw will at last have access to species-appropriate habitats and enrichment.

The Act has authority to protect federally endangered and threatened animals such as the tigers, lions, and ring-tailed lemurs enduring inadequate treatment at Tiger Creek